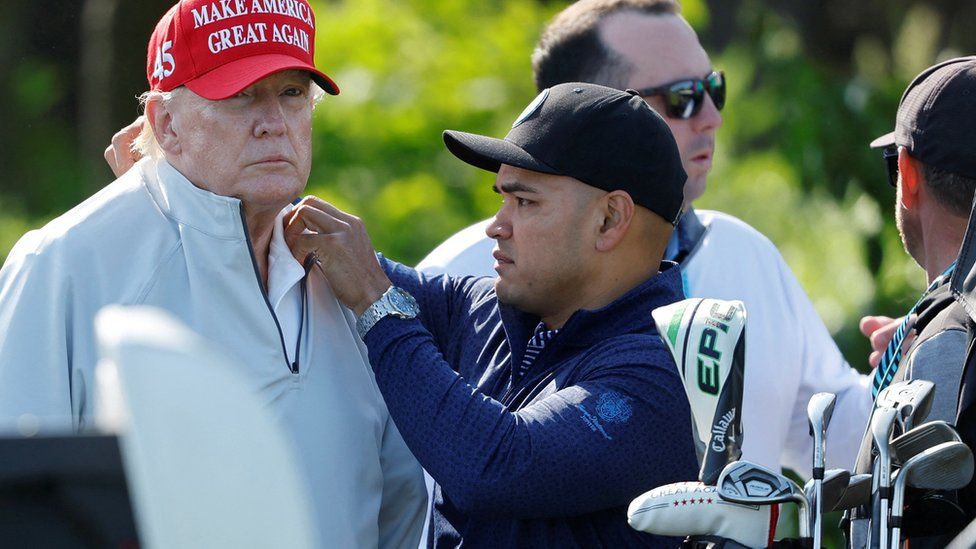 An aide to ex-President Donald Trump has been charged alongside him over the alleged mishandling of national security documents.
Walt Nauta, a US Navy veteran, was a White House military valet to Mr Trump and joined him as an assistant at his Florida mansion after he left office.
Mr Trump said on social media that Mr Nauta was a "wonderful man".
Mr Nauta faces six charges, including conspiracy to obstruct justice, withholding records,concealing documents and making false statements.
On his social media platform, Truth Social, on Friday, the former president defend Mr Nauta and accused officials at the US Department of Justice of "trying to destroy" the aide's life.
Mr Nauta "served proudly with me in the White House, retired as Senior Chief, and then transitioned into private life as a personal aide", Mr Trump wrote.
According to the indictment, Mr Trump directed his aide to move boxes that were a focus of the investigation from a storage room and to conceal them from Trump's attorney, the FBI and the grand jury.
Mr Nauta, whose first name is Waltine, served as President Trump's military aide, a role similar to a personal valet and sometimes referred to as a "body-man". He has been described as a constant presence in the Trump White House.
Born in Agat, Guam, a US territory, Mr Nauta enlisted in the US Navy in 2001, according to the Washington Post. Navy records show he ascended through the ranks to become a Senior Chief Culinary Specialist, in 2021.
According to the indictment, Mr Nauta became an executive assistant to Donald Trump in August 2021. Unlike other aides who sought to remain in Washington DC after Mr Trump lost the 2020 election, Mr Nauta relocated to Florida.
He continued to serve there as an aide to the former president at his Mar-a-Lago residence in Palm Beach.
Mr Nauta's proximity to Mr Trump placed him in the crosshairs of the justice department probe into documents with classification markings that the ex-president took with him to Florida after leaving the White House.
In an exclusive interview with the Washington Post before the Mr Nauta was charged, family members in Guam described Mr Nauta as a "good boy" who moved to the United States "to enjoy his life, not to cause problems".
Pauline Torre, his mother, said that fact that her son was selected to serve the president "says it all".
But his aunt said he did everything "at the direction of the former president."
"All he was instructed was to put the boxes where they were supposed to go," Elly Nauta, his aunt, told the Post.