Surveillance video released by a prosecutor Tuesday shows Irvo Otieno being pinned to the floor by multiple security officers at a Virginia state mental health facility in the moments leading up to his death earlier this month.
Dinwiddie County Commonwealth's Attorney Ann Cabell Baskervill's office also released 911 calls about the incident in which a caller described Otieno as "very aggressive" and repeatedly asked for an ambulance, saying he was not breathing.
Taken together, the video and emergency calls offer further details of the final moments of Otieno, a 28-year-old Black man who died March 6 as he was transferred from a Henrico County jail to Central State Hospital, according to Baskervill.
Seven sheriff's deputies and three hospital employees have been charged with second-degree murder. In a hearing last week for the charges against the deputies, Baskervill told the court, "They smothered him to death."
The video begins as Otieno, bound by his hands and feet, is forcibly taken into a room and dragged into an upright seated position on the floor with his back against a chair. Ten minutes later, after Otieno has turned onto his side with three people holding him, his body jerks, and five more deputies and workers move to pin Otieno to the floor.
A clear view of Otieno is blocked in much of the video, but one deputy appears to be lying across Otieno for most of the incident as he is forced onto his stomach. Eventually Otieno is rolled onto his back, where several deputies appear to be restraining him with their knees. One deputy holds Otieno's head still by grabbing his braided hair. The recording does not include audio.
After 12 minutes of Otieno being pinned to the ground, one deputy can be seen shaking Otieno's hair and attempting to take a neck pulse. Otieno is unresponsive. Three more minutes pass before CPR begins, with Otieno's limbs still shackled.
Medical workers from the hospital are seen converging on the room as CPR continues for nearly an hour. After he is pronounced dead, Otieno is covered in a white sheet, still lying on the floor, his body briefly left alone in the room.
The time stamp on the video shows Otieno's body being covered at 5:48 p.m.
Baskervill initially declined to release the video but changed course after Otieno's family approved.
Otieno's family and their attorneys watched the video last week and said they were disturbed by how Otieno was treated during a mental health crisis.
"My son was treated like a dog, worse than a dog," Otieno's mother, Caroline Ouko, said at a news conference. "I saw it with my own eyes on the video."
Civil rights attorney Ben Crump, who is representing the family, compared the video to that of the murder of George Floyd, who was handcuffed, forced to the ground and held down by Minneapolis police officers in May 2020. That case sparked nationwide protests over police use of force, especially against people of color.
The video is a "commentary on how inhumane law enforcement officials treat people who are having a mental health crisis as criminals rather than treating them as people who are in need of help," he said.
What the 911 calls appear to show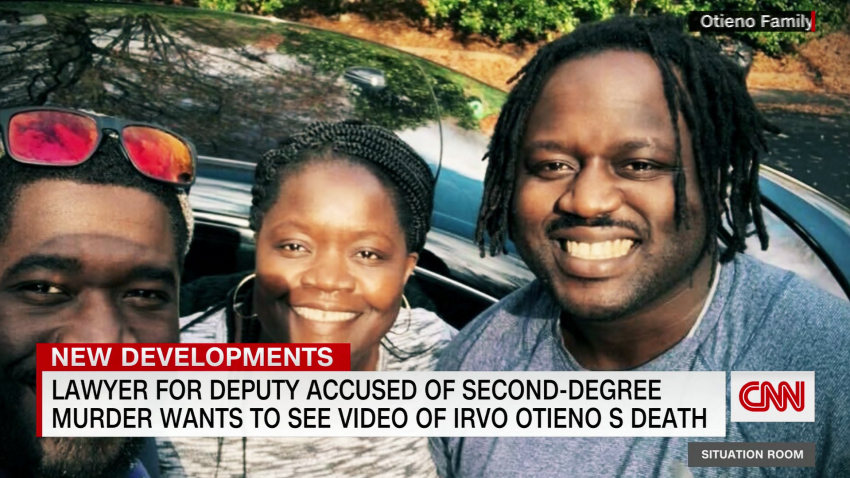 Prosecutor describes VA death in custody