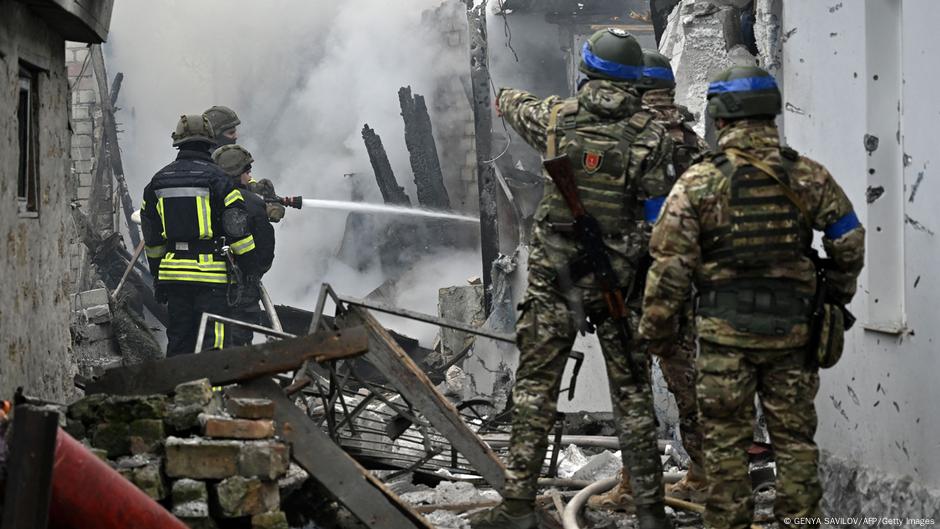 Ukrainian President Volodymyr Zelenskyy has urged allies to "speed up" weapon supplies, adding that the situation in his country remained "tough."
"The situation is very tough. Bakhmut, Vuhledar and other sectors in Donetsk region there are constant Russian attacks. There are constant attempts to break through our defenses," Zelenskyy said in his regular address late Sunday.
"Russia wants the war to drag on and exhaust our forces," he said. "So we have to make time our weapon."
"We have to speed up events, speed up supplies and open up new weapons options for Ukraine," Zelenskyy stressed.
Kyiv requested fighter jets after Germany agreed to supply Ukraine with Leopard 2 tanks.
Zelenskyy's remarks came following a missile hit a residential building in Kharkiv, Ukraine's second-largest city. Officials said at least one person was killed in the attack.
Here are other updates on the war in Ukraine on Monday, January 30:
Kremlin says Boris Johnson lied about missile threat
The Kremlin has accused former British prime minister Boris Johnson of lying over the claim that President Vladimir Putin had threatened him with a missile strike.
"What Mr Johnson said is not true. More precisely, it is a lie," Kremlin spokesman Dmitry Peskov said on Monday according to Russian news agency Interfax.
The comments come after Johnson said in a BBC documentary that Putin warned him, a missile strike would "only take a minute."
UK defense minister: Tanks will arrive 'this side of the summer'
British Defense Minister Ben Wallace told British lawmakers that 14 Challenger tanks set to be supplied by to Ukrainian forces will be delivered "this side of the summer, or May – it'll be probably towards Easter time."

The authorities did not want to provide a full timetable due to security concerns, Wallace added.
NATO Secretary General urges South Korea to export munitions to Ukraine
While visiting Seoul, NATO Secretary General Jens Stoltenberg urged South Korea to reconsider the ban on the export of munitions to countries in conflict in order to be able to sell weapons to Ukraine.
Citing Germany, Norway and NATO member applicant Sweden, Stoltenberg said, "Several NATO allies who had as a policy never to export weapons to countries in conflict have changed that policy now."
"If we believe in freedom, if we believe in democracy, if we don't want autocracy and tyranny to win, then they need weapons," he added.
Western weapons causing 'significant escalation' — Kremlin
The Kremlin said that the continued supply of Western weapons to Ukraine is only serving to escalate the situation.
"It's a dead-end situation: it leads to significant escalation, it leads to NATO countries more and more becoming directly involved in the conflict," Kremlin spokesman Dmitry Peskov said during a call with reporters.
Meanwhile Russian Deputy Foreign Minister Sergei Ryabkov said that peace talks with Ukraine would be "pointless" in view of battle tank pledges by Western countries.
Russia state-run media agency Ria Novosti reported Ryabkov as saying that Western weapon deliveries were a "highly destructive step" that was only going to escalate the situation.
Shelling kills five in eastern Ukraine — local authorities
Ukrainian regional authorities say that Russian shelling has claimed the lives of at least five people in the east of the country.
Regional governor Oleh Syniyehubov said that a woman was among the dead and that three others had been wounded.
Ukraine's military leadership has warned that the threat of Russian air and missile strikes throughout Ukraine remains high.
Ukrainian forces are engaged in fierce combat with invading Russian troops in the eastern part of the country.
The General Staff of the Armed Forces of Ukraine said that Russian forces were conducting "offensive operations" in Lyman, Bakhmut, Avdiivka and Novopavlivsk.
Poland to ramp up defense budget to 4% of GDP
Polish Prime Minister Mateusz Morawieck says his country would increase its defense spending to 4% of Gross Domestic Product (GDP).
The decision, against the backdrop of Russia's war in Ukraine, would see the country spending even more proportionally than the United States.
"The war in Ukraine makes us arm ourselves even faster. That is why, this year, we will make an unprecedented effort: 4% of GDP for the Polish army," Morawiecki told reporters.
Under a current spending target, members of the NATO alliance are urged to reach the benchmark of spending at least 2% of GDP on defense by 2024. US military spending for 2021 was 3.5% of GDP.
According to diplomats at a recent NATO meeting, Poland, Lithuania, and Britain recently suggested that the target should be higher in view of Moscow's invasion of Ukraine.

NATO chief asks Seoul to 'step up' Ukraine support
On a visit to South Korea, NATO Secretary-General Jens Stoltenberg urged officials to "step up on the specific issue of military support" to Kyiv.
"If we believe in freedom, democracy, if we don't want autocracy and tyranny to win then they need weapons," he said, adding that the Ukrainian military urgently needs more ammunition.
In recent years, South Korea has become an increasingly important arms exporter. Seoul has signed deals to sell tanks to several European countries, including Poland.
Stoltenberg is on a tour of Asia that will also take him to Japan as he moves to bolster ties with allies in the region, not only to support Ukraine but also to counter possible threats from China.
Zelenskyy urges exclusion of Russia from Paris Olympics
The Ukrainian president called for Russian athletes to be excluded from the 2024 Paris Games.
"Attempts by the International Olympic Committee to bring Russian athletes back into the Olympic Games are attempts to tell the whole world that terror is somehow acceptable," Zelenskiy said.
"As if you could shut your eyes to what Russia is doing in Kherson, Kharkiv, Bakhmut and Avdiivka," he said.
UK ex-PM Johnson claims Putin threatened him with missile
Former British Prime Minister Boris Johnson has claimed that Russian President Vladimir Putin threatened him with a missile attack shortly before the start of the invasion of Ukraine.
"He sort of threatened me at one point and said, 'Boris, I don't want to hurt you, but with a missile, it would only take a minute', or something like that," Johnson said in a BBC documentary to be aired Monday.
"I think from the very relaxed tone that he was taking, the sort of air of detachment that he seemed to have, he was just playing along with my attempts to get him to negotiate," the former prime minister said.
Johnson said that he stressed to Putin that NATO did not plan to enlarge to Ukraine in the foreseeable future.
"He said, 'Boris, you say that Ukraine is not going to join NATO any time soon. What is any time soon?' And I said, 'well it's not going to join NATO for the foreseeable future. You know that perfectly well'," he said of talks with Putin.
German diplomat Heusgen: Scholz made 'no friends' in Washington
Christoph Heusgen, chairman of the Munich Security Conference, said that German Chancellor Olaf Scholz hadn't made "any friends" in Washington over Berlin's hesitancy to deliver Leopard 2 tanks to Kyiv.
"The Chancellor didn't make any friends in Washington this way," Heusgen said.
He said that Germany and Europe must do more to become self-reliant in the security sphere, given that "the US as the leading power of NATO is more strongly oriented toward the Indo-Pacific area."
"Leadership can't mean always being the last one… to do what's necessary," he argued, referring to Berlin's decision to deliver battle tanks to Ukraine following pressure from allies.
Germany's Scholz urges 'serious' debate over jet deliveries
German Chancellor Olaf Scholz called criticized the debate around Kyiv's demand that it be supplied with fighter jets.
"It is unusual that this debate is being held," Scholz said.
The chancellor called for a "serious" debate rather than an "a bidding war… in which perhaps domestic political motives are the primary concerns rather than supporting Ukraine."
Croatian president attacks West over Ukraine stance
Croatian President Zoran Milanovic criticized US and Western military support to Ukraine, most recently in the form of tank deliveries, and asserted that "Crimea will never again be part of Ukraine."
The left-leaning politician is the commander-in-chief of the Croatian military. Croatia is a NATO member and part of the EU.
Milanovic also decried the Western stance on Ukraine as "deeply immoral because there is no solution" to the war in Ukraine, said he did not want Croatia to face negative consequences from it.
sdi, ar/fb (AP, AFP, dpa, Reuters)