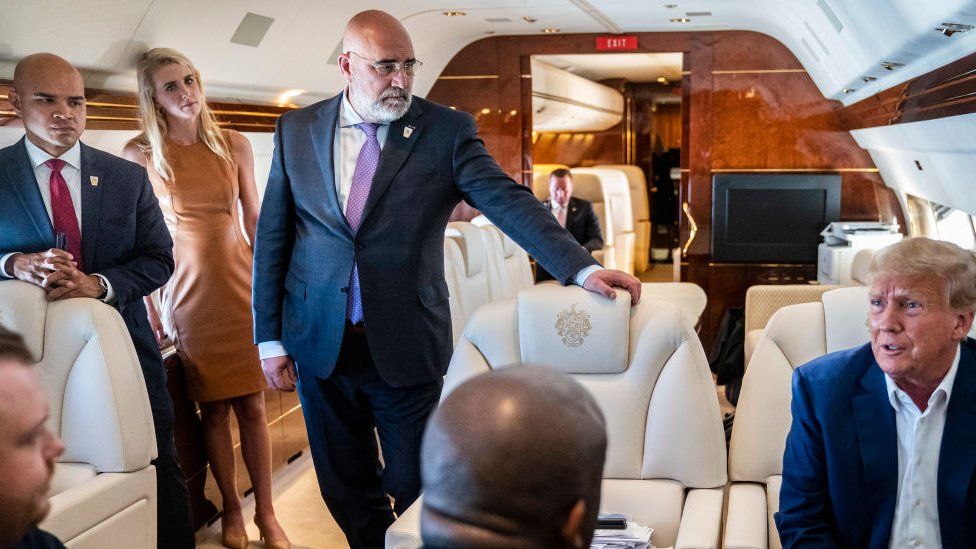 A personal aide to Donald Trump has been indicted over the alleged mishandling of classified documents, alongside the former president.
The aide, navy veteran Walt Nauta, worked at the White House and later at Mr Trump's Mar-a-Lago resort.
Mr Nauta now faces charges including conspiracy and making false statements.
Mr Trump is facing 37 counts, including wilful retention of national defence information and obstruction of justice.
According to the 49-page indictment against the two men, Mr Nauta played a key role in moving and concealing boxes that contained classified information, both before and after a May subpoena that ordered Mr Trump to return government documents kept at his Florida estate, Mar-a-Lago.
Additionally, the indictment says he unlawfully retained some files that were clearly marked as secret.
When interviewed by FBI agents in May 2022, Mr Nauta also allegedly made false and misleading statements about his knowledge of the documents, the indictment shows.
The charges against Mr Nauta include conspiracy to obstruct justice, withholding a document or record, corruptly concealing a document, and concealing a document in a federal investigation, all of which carry maximum prison sentences of 20 years.
Two other charges – scheme to conceal, and false statements and representations – carry maximum sentences of five years in prison.
Mr Nauta's lawyer, Stanley Woodward, declined to comment on the case.
Before the indictment making the charges public was unsealed, Mr Trump accused the US Justice Department of "trying to destroy" Mr Nauta's life, "like the lives of so many others, hoping that he will say bad things about Trump".
"He is strong, brave and a great patriot," Mr Trump wrote on his social media platform, Truth Social.
Mr Trump is expected to appear at a federal courthouse in Miami, Florida, on 13 June, where the charges will be read in court.
CBS has reported that the name on the summons was that of Aileen Cannon, a Trump-appointed judge. Ms Cannon will, at least initially, oversee the indictment. It is unclear whether she will be assigned to the case for its duration.
Last year, Ms Cannon ruled that prosecutors cannot use documents seized from Mar-a-Lago for any "investigative purpose", a victory for Mr Trump's legal team.
On Friday, two of Mr Trump's lawyers – Jim Trusty and John Rowley – announced that they would no longer be representing him.
Mr Trump confirmed the shake-up of his legal team on Truth Social.
"This morning we tendered our resignations as counsel to President Trump, and we will no longer represent him on either the indicted case or the 6 January investigation," the pair said in a statement.
They both said it was "an honour" to spend the last year defending Mr Trump, but said that due to the case being filed in Miami, the lawyers felt it was a "logical moment" to step aside.
The US Secret Service is meeting with Mr Trump's team on Friday to arrange his travel and court appearance, law enforcement officials told CBS, the BBC's US partner.