Last year Google stopped offering unlimited photo backup, which saved photos at a reduced quality, after discontinuing the original quality storage that was available to Pixel buyers. Now there's a way to get it back, however, instead of being exclusive to Pixel owners, it will only be available to T-Mobile subscribers in the US.
The $15 a month plan will become available on April 26. It combines a 2 TB Google One subscription ($10/mo from Google, $100 for the year) with unlimited storage for photos and videos at full resolution.
Note that this only applies to the main account holder, meaning that if you have a family plan, only one of you is getting unlimited storage. The 2 TB storage can be shared with up to 5 people, though.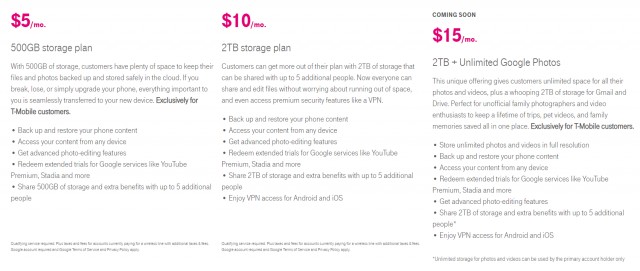 T-Mobile's Google One offerings, including the 2 TB + Unlimited Google Photos deal
This offer comes with all the usual perks of Google One, e.g. the ability to back up your phone to the cloud, getting extended trials for Google services (YouTube Premium, Stadia, etc.), a VPN service for Android and iOS and a few other goodies. These perks can also be shared with up to 5 people.
If you're interested, you can check out more details about the new plan over on T-Mobile.com. If you don't need that much storage (especially for photos), T-Mobile also has an exclusive 500 GB One tier for $5 a month. Google only offers three paid tiers: 100 GB for $2/mo, 200 GB for $3/mo and 2 TB for $10/mo.
By the way, Google Fi subscribers don't have access to such a deal, which suggests that T-Mobile is footing the bill for the extra storage.