US fighter jets scrambled at supersonic speed to intercept an unresponsive plane as it flew over Washington DC on Sunday.
The F-16 jets caused a loud sonic boom that was heard around the region, prompting concern from some residents.
They were deployed after the plane entered some of the most heavily restricted airspace in the country and failed to respond to the authorities.
It then crashed in a rural area of Virginia after a rapid descent.
Police and rescuers reached the wreckage near the George Washington National Forest by foot hours later and said no survivors had been found. Four people were reportedly on board.
It is not clear why the pilot was unresponsive or what caused the Cessna Citation small aircraft to come down.
Military officials speaking on condition of anonymity said it was not shot down and the fighter jets did not cause the crash.
The North American Aerospace Defense Command (Norad) said in a statement the aircraft were authorised to travel at supersonic speeds, causing a sonic boom to be heard in the DC region.
"During this event, the Norad aircraft also used flares – which may have been visible to the public – in an attempt to draw attention from the pilot," the statement said.
A sonic boom is similar to thunder, the result of an object moving faster than sound – about 750mph (1,207km/h) at sea level – according to the US Air Force. The sound can shatter glass, but is usually harmless to those that hear it.
Richard Levy, a retired captain and pilot instructor, told the BBC that the Cessna probably lost cabin pressure.
Aircraft cabins can depressurise for a number of reasons, including because of aircraft mechanical malfunctions or pilot errors, he said.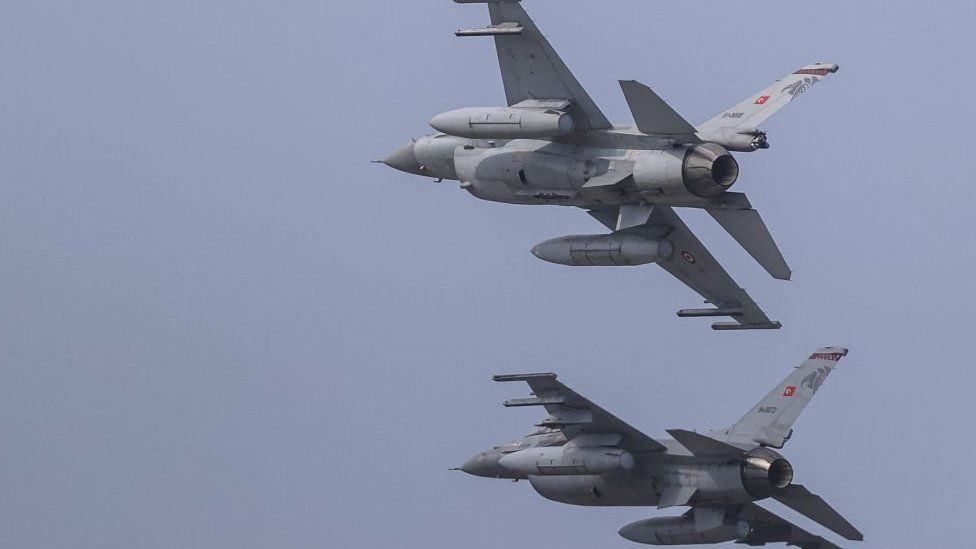 In this case, Mr Levy said the cabin may have depressurised gradually and "insidiously" without those on board even noticing symptoms of hypoxia – a condition in which the body is deprived of adequate levels of oxygen – until it was too late.
"They're unaware of what's happening, and then they've gone beyond the point of rational thinking, consciousness and good vision," Mr Levy said.
US aviation officials said the plane took off from Elizabethton, Tennessee, at 13:14 local time on Sunday and was heading to Long Island in New York.
But flight-tracking data shows the pilot turned around after reaching Long Island and then flew south over Washington.
The flight data ends at around 15:30 near Montebello in Virginia and shows the aircraft descended at great speed.
Mr Levy said the pilot may have realised at one point that the cabin was depressurising and then tried to turn the aircraft around on an autopilot setting.
"After that, my assumption is that the pilot then lost consciousness," he said.
The private plane was reportedly registered to the Florida-based company Encore Motors of Melbourne Inc.
John Rumpel, 75, who owns the business, told the New York times that his daughter, two-year-old granddaughter and her nanny were on the plane along with the pilot.
He said they had been returning to New York from his North Carolina home. "It descended at 20,000ft a minute, and nobody could survive a crash from that speed," Mr Rumpel, who is also a pilot, said, adding that he hoped those on board had not suffered.
President Joe Biden was briefed on the incident at the time, officials said.
He was playing golf at Joint Base Andrews in Maryland where the fighter jets departed from.
The Cessna crash has drawn comparisons with the 1999 crash of a Learjet carrying professional golfer Payne Stewart and five other passengers. After losing pressure, that plane flew directionless for thousands of miles across the country before crashing in South Dakota, killing everyone on board.