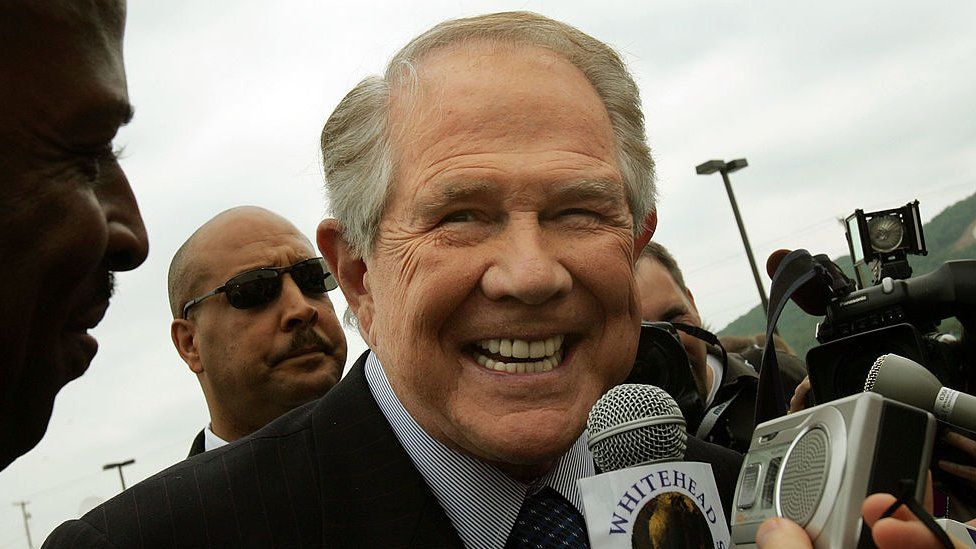 Evangelical Christian leader Pat Robertson has died at the age of 93.
He was one of the driving forces of a movement to increase the influence of the religious right in US politics.
In 1998, the broadcaster ran for president as a Republican.
The news was first announced on the Christian Broadcasting Network.
For decades, Robertson hosted – and gained national prominence through – a talk show on the network called the 700 Club, which combined religious news and political commentary with light entertainment.
He also founded the Christian Coalition, the organisation that grew to be a pivotal player in Republican politics starting in the 1980s.
It provided endorsements and financial and organisational support to candidates who echoed their views on hot-button social issues like abortion, religious liberty and "traditional" values.
In 1988, Robertson campaigned for the Republican presidential nomination. He finished second in the Iowa Caucuses, behind Kansas Senator Robert Dole, with the the support of the state's large evangelical community. His campaign faltered after eventual nominee and president George HW Bush won the New Hampshire primary.
Despite the defeat, Robertson's campaign demonstrated that evangelical Christians were a growing force in Republican politics. The evangelical leader would go on to become a kingmaker in Republican politics for decades thereafter.