Ramzan Kadyrov, the Chechen leader and an ally of Russian President Vladimir Putin, said that he is ready to attack Poland and that the European country "better take back your weapons."
In a video shared Wednesday on Twitter by BBC journalist Francis Scarr, Kadyrov says that the "issue of Ukraine is closed" and that he is "interested in Poland," according to a translation of his comments.
"After Ukraine, if we're given the command, in six seconds we'll show you what we're capable of," Kadyrov said.
Poland is one of the countries that has supplied Ukraine with weapons to help it defend itself from Russia's invasion that has been going on since late February. Kadyrov's statement highlights concerns expressed by some Polish leaders that Russia could potentially launch an attack on Poland in the future.
While Putin has not given any definitive indication of whether he may look next to Poland, Polish Deputy Foreign Minister Pawel Jablonski said during an interview with Al Jazeera published in late March that it is an "absolute certainty" that Putin would like to attack Poland.
"At the same time, we're also quite certain that [Putin] will not do it now because he's too much occupied with what's happening in Ukraine," Jablonski added.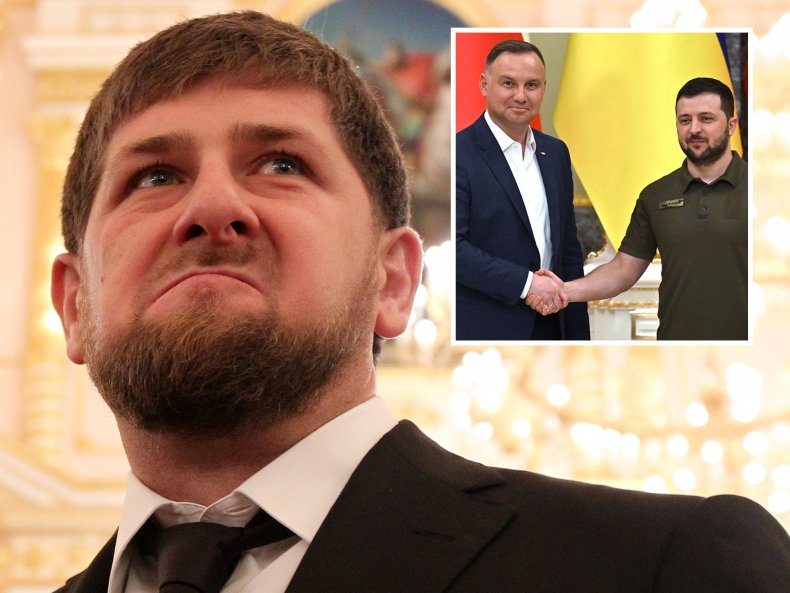 The video of the Chechen leader, which had racked up nearly 25,000 views as of Wednesday evening, also showed Kadyrov directing Poland to "beg official forgiveness for what you did to our ambassador."
Kadyrov was seemingly referencing an incident that took place earlier this month when Russia's ambassador to Poland, Sergey Andreev, was hit with red paint at a Victory Day event in Poland. The move was in protest against Russia's war in Ukraine. Andreev and his delegation were forced to leave the area after the incident.
"We won't just ignore it," Kadyrov said in the video. "Bear that in mind."
It was not immediately clear when or where the video was filmed.
Kadyrov is not the only Putin ally who has ramped up rhetoric against Poland in recent weeks.
Oleg Morozov, a member of the Russian parliament and a top member of Putin's political party, United Russia, suggested earlier this month that Poland should be "in first place in the queue for denazification after Ukraine," according to an English translation of a Telegram post.
Morozov did not specify why he believed Poland was in need of "denazification."
Newsweek reached out to the foreign ministries of Russia and Poland for comment.