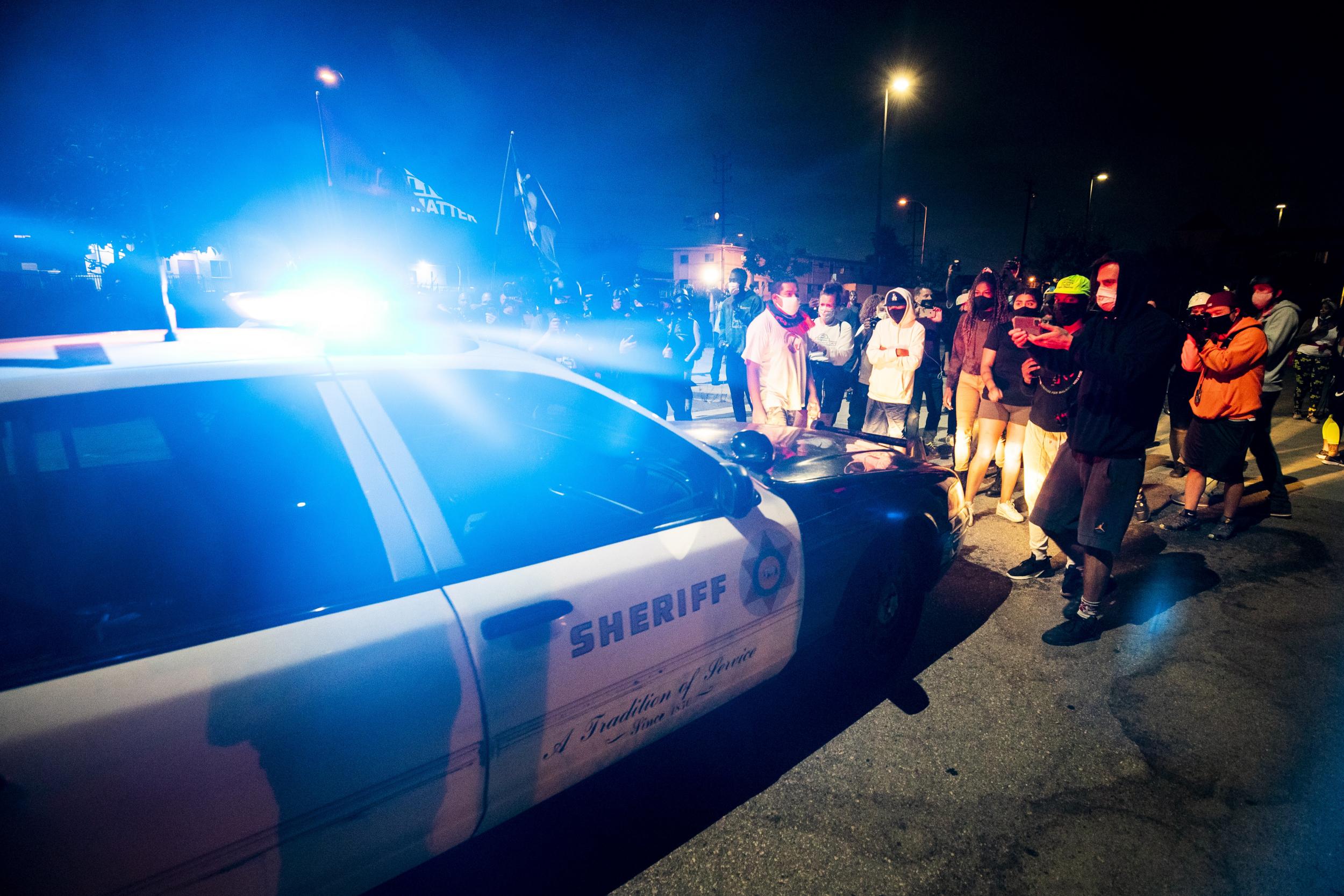 Protests have grown in California following the fatal police shooting of a black man who officials said was riding a bicycle when he was stopped for "code violations" in a deadly confrontation caught on camera.
Peaceful demonstrations were sparked after cell phone video shared to social media showed deputies with the Los Angeles County Sheriff's Department shooting the man, who has not been identified by police as of Tuesday morning.
The shooting took place near south Los Angeles around 3:15 pm on Monday, according to sheriff's Deputy Juanita Navarro-Suarez.
During a news conference later that night, sheriff's Lieutenant Brandon Dean said the man was "riding his bicycle, and he was in violation of vehicle code violations for riding his bike" when he was stopped by two deputies from the South Los Angeles station.
The man fled from the deputies, leaving his bicycle and running away from their vehicle, according to Mr Dean, who said it was not known what codes the man had allegedly violated.
The deputies pursued the man, eventually catching up and engaging him when a physical confrontation broke out, according to Mr Dean. The deputies were not wearing body cameras.
"Our suspect was holding some items of clothing in his hands, punched one of the officers in the face and then dropped the items in his hands," the lieutenant said. "The deputies noticed that inside the clothing items he dropped was a black semiautomatic handgun. At which time a deputy-involved shooting occurred."
The man died at the scene, according to police.
Officers canvassed the area following the shooting in search of eye witnesses and video recordings since the deputies were not wearing body cameras. Some videos had already been shared online that quickly went viral, showing another police-involved killing of a black man amid ongoing protests sparked by the death of George Floyd in May.
Officials have not provided further details about the incident on Monday, including how many times the man was shot. An investigation has been launched into the shooting.
By nightfall, protests in the community where the man was shot swelled to crowds of more than 100 people, with one person arrested on suspicion of failure to disperse. Protestors later convened outside of the local sheriff's station.
Though police have not confirmed the identification of the man, several family members at the scene of the protests identified the shooting victim as 29-year-old Dijon Kizzee, according to CBS Los Angeles.