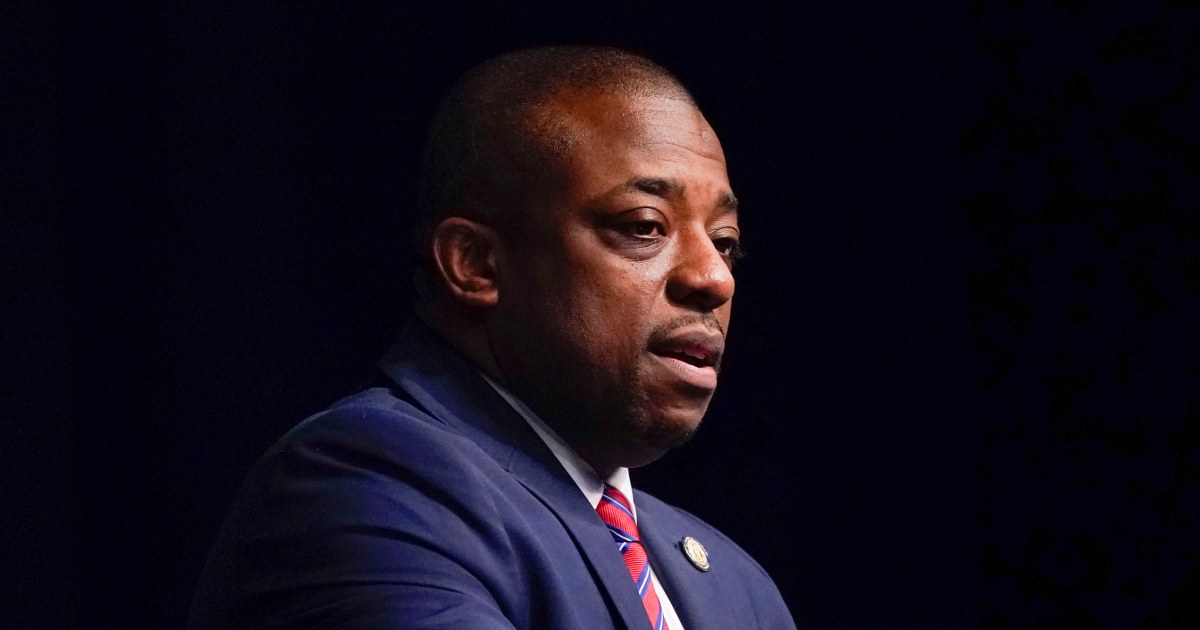 New York Lt. Gov. Brian Benjamin was arrested on charges related to a campaign finance fraud investigation, officials announced Tuesday.
Benjamin surrendered to authorities and appeared before a federal judge in New York City on Tuesday, the U.S. Department of Justice said in a statement.
His arrest comes after reports that Manhattan federal prosecutors and the FBI were investigating whether Benjamin knowingly engaged in a campaign finance fraud scheme. They were also looking into whether Benjamin, in exchange, helped distribute state money to contributors and their projects.
An indictment alleges that Benjamin was given campaign contributions from a Harlem real estate developer. In exchange, Benjamin obtained a $50,000 state grant for the developer's business, although the money was never delivered, the indictment states.
The developer allegedly provided Benjamin with two $10,000 personal checks in the names of relatives who did not share the developer's last name. The indictment says the developer allegedly did this to conceal any connections between himself and the contributions.
The developer also allegedly gave Benjamin a third check for $5,000 in the name of a limited liability company owned by the developer.
Benjamin was charged with bribery, honest services wire fraud, and conspiracy to commit those offenses.
"As alleged, Brian Benjamin used his power as a New York state senator to secure a state-funded grant in exchange for contributions to his own political campaigns," U.S. Attorney for the Southern District of New York Damian Williams said in a statement. "By doing so, Benjamin abused his power and effectively used state funds to support his political campaigns."
Williams said at a news conference Tuesday afternoon that "public corruption erodes people's confidence and faith in government," and his office will always "uphold the rule of law."
Jocelyn E. Strauber, Commissioner of the U.S. Department of the Interior, said Benjamin betrayed the public trust when he used his position of power to serve his own interests.
The alleged scheme ran from about 2019 to 2021. Benjamin covered his tracks by falsifying campaign donor forms, misleading municipal regulators and "providing false information in vetting forms" he submitted, the indictment states.
Things began to unravel when Benjamin's fundraiser, Gerald Migdol, was arrested in November, according to NBC New York. Migdol is charged with wire fraud in connection with an alleged campaign fraud scheme linked to past Benjamin fundraising.
Benjamin, who was appointed lieutenant governor by Gov. Kathy Hochul in 2021, has not publicly addressed the allegations.
When asked previously about the investigation, his office referred back to a Nov. 19 press statement issued after Migdol was arrested.
"Neither Lieutenant Governor Benjamin nor his campaign are being accused of any wrongdoing and they are prepared to fully cooperate with authorities," his office said at the time. "As soon as the campaign discovered that these contributions were improperly sourced, they donated them to the Campaign Finance Board, pursuant to guidance obtained from the CFB."
Hochul's office did not immediately return a request for comment about Benjamin's arrest.