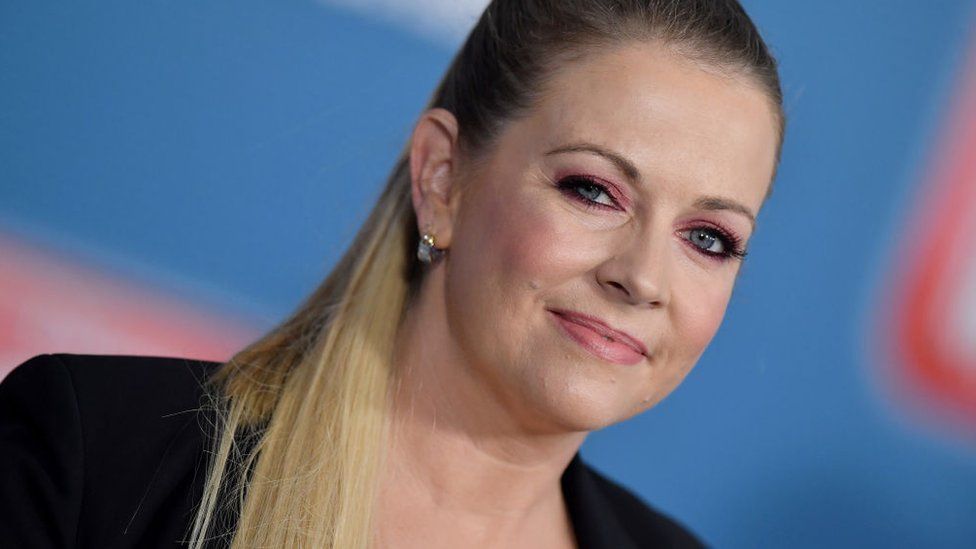 US actress Melissa Joan Hart has said she helped children flee after the Nashville school shooting.
In an emotional video on Instagram, Hart said her children go to school near The Covenant School, where an attacker opened fire on Monday.
The Sabrina The Teenage Witch actress said she and her husband helped a class of kindergartners escape and reunite with their families.
Three children and three adults were killed in the shooting.
The children were nine-year-old pupils at the Christian private school. The adults were all staff members.
Hart said that she and her husband were in the area on their way to attend conferences at their children's school when the shooting unfolded on Monday morning.
They then assisted with family reunification efforts as pupils from The Covenant School began to flee.
"We helped a class of kindergartners across a busy highway. They were climbing out of the woods. They were trying to escape the shooter situation at their school," Hart said, appearing visibly upset.
"So we helped all these tiny little kids cross the road and get their teachers over there, and we helped a mom reunite with her children."
Skip instagram post by melissajoanhart
Allow Instagram content?
This article contains content provided by Instagram. We ask for your permission before anything is loaded, as they may be using cookies and other technologies. You may want to read Meta's Instagram cookie policy and privacy policy before accepting. To view this content choose 'accept and continue'.
The BBC is not responsible for the content of external sites.
Hart noted that this is the second time a mass shooting had occurred in her community.
"This is our second experience with a school shooting with our kids being in close proximity," she said.
"I just don't know what to say anymore," she added later in the video. "It is just, enough is enough. Just pray. Pray for the families."
The Nashville shooter has been identified by police as 28-year-old Audrey Hale, a former student of the school.
Officers said Hale was armed with at least two assault-style weapons and a handgun, all of which were purchased legally. The suspect was killed by police shortly after the shooting began.