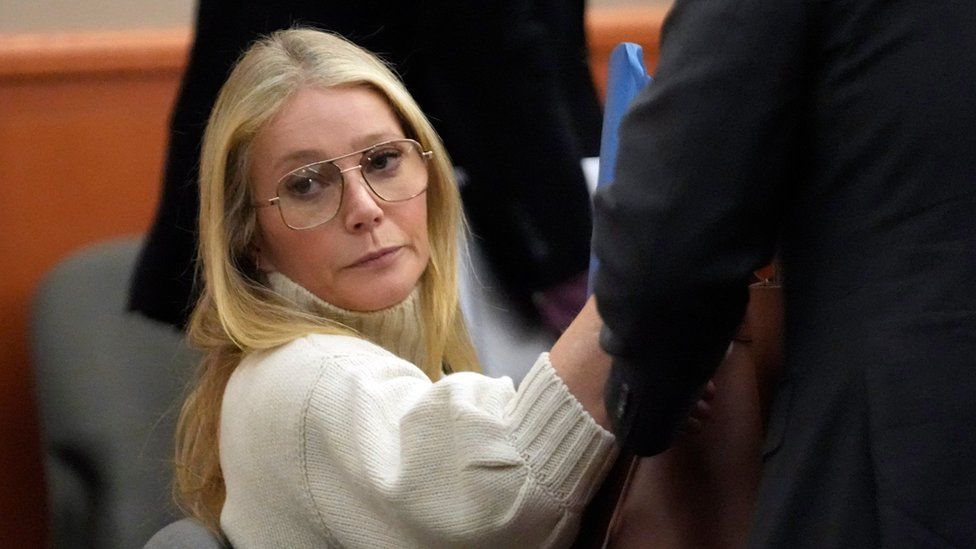 A man involved in a collision with Gwyneth Paltrow on a ski slope seven years ago has since lost "the ability to function at a high level", a court in Utah heard.
Terry Sanderson was a "high-energy person" but "deteriorated abruptly" after the 2016 accident, Dr Wendell Gibby testified.
Mr Sanderson, 76, claims the Hollywood actress caused the accident. He is seeking damages of $300,000 ($244,000).
Ms Paltrow, 50, has countersued over what her lawyers say is "utter BS".
The Oscar-winner, movie star and lifestyle influencer is seeking $1 in damages plus attorney's fees.
Both she and her children are expected to take the stand later this week in her defence.
Mr Sanderson – whose initial lawsuit seeking $3.1m was dismissed – lost consciousness after the February 2016 incident at Deer Valley resort, allegedly suffering a concussion and four fractured ribs.
On Wednesday, lawyers for the retired optometrist called Dr Gibby, a neuroradiologist who has extensively reviewed Mr Sanderson's medical records.
The witness claimed that Mr Sanderson was a bright man who had led an active life, but had become emotionally volatile and struggled to maintain relationships with those in his life – all of which happened after the crash.
"Terry had been a very high-functioning, high-energy person" who skied, volunteered, danced and interacted frequently with his children and grandchildren, said Dr Gibby.
"After his accident, he deteriorated abruptly and many of the activities he used to do he stopped doing."
He pointed to Mr Sanderson's split from his girlfriend, struggles with problem solving and incidents in which he yelled at his grandchildren.
"The ability to function at a high level was lost," he said.
Dr Gibby also noted that Mr Sanderson's rib injuries were on his side, suggesting that Ms Paltrow was skiing downhill and slammed into him – rather than the other way around.
"Had he been the person running into her, I don't think he would have sustained these types of injuries."
Ms Paltrow's lawyers argue Mr Sanderson is to blame for the accident and that the then-69-year-old already had several pre-existing medical conditions before the collision, including vision and hearing loss from a previous stroke; a brain disorder that caused excessive fluid build-up; and occasional depression.
But Dr Gibby pushed back: "The abrupt change in his functioning, his behaviour and his ability to interact with people was not something brought on by his pre-existing conditions."
A second witness, neuropsychologist Dr Sam Goldstein, concurred: "Mr Sanderson may have had pre-existing conditions. But there was an acute, adverse change in his behavioural and emotional function."
Dr Goldstein pointed out that Mr Sanderson's struggles were "the kind of stuff you better understand if you follow someone around for two weeks".
Ms Paltrow – who is likely to be called to the stand on Thursday – sat quietly with her attorneys on Wednesday, dressed in a button-down cream sweater with her hair tied back.
As morning proceedings kicked off, her lawyers protested that she was being photographed in violation of courthouse decorum.
"This has been a problem … reporters being in front of my client's car … cameras in her face," said Steve Owens. "I'm mad. I want it to stop."
"I recognise it as a problem," Judge Kent Holmberg replied, offering to eject reporters from the room if the matter persisted.
Now in its second day, the Paltrow-Sanderson trial is expected to last at least six more days.