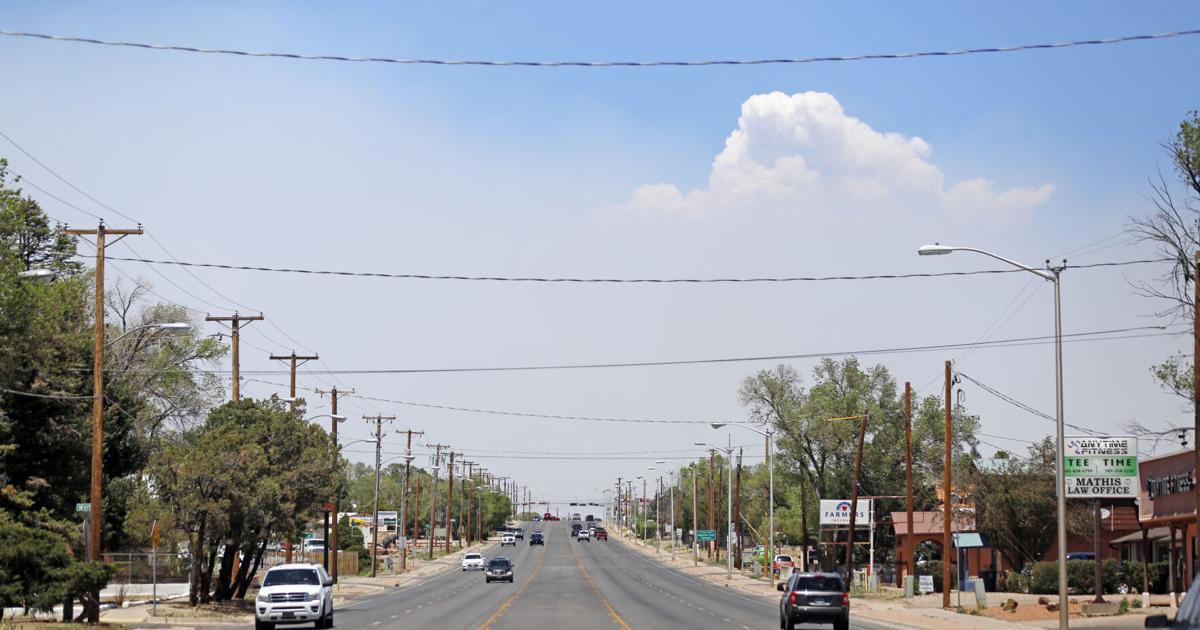 The Hermits Peak/Calf Canyon Fire threatened to annex much more of Northern New Mexico — taking a stunning leap Tuesday toward places that a few days ago seemed far removed from its grasp.
Abetted by high winds moving south to the north, the voracious fire is setting its sights on Taos and Colfax counties — putting even more communities on alert for evacuations and frustrating 1,800 firefighters and support personnel whose best efforts can't seem to put a lasso on a blaze that is now in excess of 318 square miles.
Noting the fire could push as far as Taos, Angel Fire and Black Lake, Todd Abel, an operations section chief for the fire's incident management team, said "this fire has enough energy … that those areas are going to see fire."
By midday Tuesday, the fire's growth toward Taos County necessitated a change in evacuation status, with the small community of Angostura placed in the "go" status and Rock Wall, Las Mochas and Sipapu moved to "set" — one step from a mandatory departure.
New Mexico has been anything but lucky on the weather front throughout the crisis, and on Tuesday, forecasters ladled on more difficult news: a front moving in from the west will take root in the eastern part of New Mexico on Wednesday bringing storms with potential lightning strikes.
Scott Overpeck, a meteorologist with the National Weather Service in Albuquerque, said some storms with lightning "could spark a new fire."
While some of those storms could produce "good rainfall, others may not," he said. "We don't know which storms are going to be dry and which ones are not."
Gov. Michelle Lujan Grisham alluded to the potential for dry lightning during a news briefing on the fires Tuesday morning.
Noting the 200,000-acre-plus Hermits Peak/Calf Canyon Fire is only 39 percent contained and the 42,000-acre Cerro Pelado Fire in the Jemez Mountains is just 11 percent contained, the governor acknowledged "we're not getting where we want to be" in terms of controlling the fires.
Lujan Grisham, who speculated the cost of recovering from the devastation to infrastructure, forests and waterways caused by the fires could run into the billions, said once winds get hold of those fires, it becomes challenging for fire crews to battle the blazes in any predictable, regular fashion.
While firefighters got some relief from high winds Monday, the areas around the two major fires remained under a red flag warning for most of Tuesday. And though winds "could slack off" during the weekend, the weather forecast for the next few days will offer very little comfort to those affected, Overpeck said.
"There's really not a whole lot of change on that front," Overpeck said Tuesday. Winds in the Hermits Peak/Calf Canyon Fire zone will range in the 20-30 mph range, with gusts as high as 50 mph over the next two days.
Almost as threatening, humidity levels will remain below 10 percent, he said.
Winds may be less intense in the area around the Cerro Pelado Fire, but it will still be "very dry" in that region as firefighters work to stop it from moving toward Los Alamos National Laboratory property and the city of Los Alamos.
With high winds tossing embers more than a mile, spot fires in the Hermits Peak/Calf Canyon zone have bedeviled firefighters almost from the beginning and continued to do so Tuesday. The fire's run toward the community of Chacon and Guadalupita accelerated and officials indicated it wouldn't stop there.
Fire officials have said at least 172 homes have been lost in a fire zone that ranges from Las Vegas, N.M., to several miles north of Mora, though Lujan Grisham said officials cannot confirm if more structures were damaged or destroyed until they can safely access the fire zone.
Nora Meyers Sackett, spokeswoman for the governor, said 277 structures have been destroyed in the fire.
In some areas, particularly in the central and eastern sides of the fire zone, people began returning to see their homes — or what was left of them — as power slowly is being restored.
But the northern edge of the fire, which produced a billowing smoke cloud easily viewed from Santa Fe and as far away as Placitas, remains a difficult problem, officials said.
Dave Bales, incident commander on the fire, said during a Tuesday evening briefing on the blaze, "It's scary. When you see a smoke plume like we see today, that definitely raises the anxiety."
Meanwhile, crews battling the Cerro Pelado Fire laid down layers of retardant to slow that blaze in some areas, said Mary Cernicek spokeswoman for the incident command team on the fire. More than 870 firefighters are involved.
Crews have been committed to stop the fire from crossing N.M. 4, she said, and while it did jump another road, she added fire crews "feel like they have that in check pretty well."
She said to date there have been no reports of structures being damaged or destroyed or people being hurt as a result of the blaze.
Lujan Grisham once again urged residents who are reluctant to leave fire zones under mandatory evacuation orders to get out. She said it is not worth risking a life to save property.
"It's risky for any number of reasons," to stay behind, she said, adding it may be hard for emergency personnel to get to those residents if they need help later.
She said the fires are moving so quickly that if you see one in your backyard, it can engulf your property in "seconds."
Last week Lujan Grisham announced those affected by the fire can apply for Federal Emergency Management Agency aid. As of Tuesday, 184 households had applied for and been approved for that relief, she said. All told, $130,000 in those federal funds have been committed, she said at the news briefing.
She said her office is working to find more resources, including free or inexpensive temporary housing, for those displaced by the fires.
In response to a question on what the fire has cost so far in terms of property damage, Lujan Grisham said it's too early to estimate.
The state's deputy superintendent of insurance, Jennifer Catechis, said last Friday, "As far as the costs of losses, it's really early in the process. We have no estimate of what that is going to be. We're not in the [fire] zones yet, we can't go in and do that assessment right now.
"We know how many buildings have burned; we don't know exactly what [insurance] coverage of those buildings was."
Meyers Sackett said the total state cost for fighting fires so far this calendar year is estimated at about $40 million. While the cost of fighting the Hermits Peak/Calf Canyon Fire is estimated at $50 million so far, she said most of that cost should be covered by federal disaster funding.
Meanwhile, the state Environment Department issued a precautionary water advisory for a variety of water systems in San Miguel and Mora counties, recommending all users of those outlets to seek an alternate source of drinking water.
Because the Hermits Peak Fire, before it joined with the Calf Canyon blaze, was the result of a prescribed burn gone awry, Lujan Grisham said the federal government should bear much of the cost of that blaze.
For now, she said "there will be no prescribed burns in New Mexico" until new guidelines are put in place to ensure they will not take place in dry and windy conditions.
First, she said "let's get these fires managed. … This is horrific, what is happening."