Actress Gwyneth Paltrow has made an outstanding contribution to entertainment over the decades – and we're not just talking about her films.
Brilliant as she was in Sliding Doors, Paltrow has become equally well known for her real-life escapades such as "consciously uncoupling" from former husband Chris Martin, eating bone broth for lunch and launching a vagina-scented candle (currently sold out).
However, her greatest contribution to the office water-cooler may be the recent trial over a skiing collision in 2016, which has prompted a blizzard of headlines and provided many memorable quotes.
Terry Sanderson, 76, sued Paltrow for $300,000 (£244,000) in damages over physical and emotional wounds he said he sustained when Paltrow allegedly crashed into him on the ski slope at Deer Valley Park in Utah.
The 50-year-old actress denied being responsible and counter-sued for $1 (81p) plus legal fees, claiming that Sanderson was the one who crashed into her.
The trial was certainly no laughing matter for Sanderson, who said he was left with brain damage and broken ribs following the collision.
But it has also proved more compelling than even the most explosive episode of Judge Judy. Here are six highlights.


1. 'Thank you, but no thank you'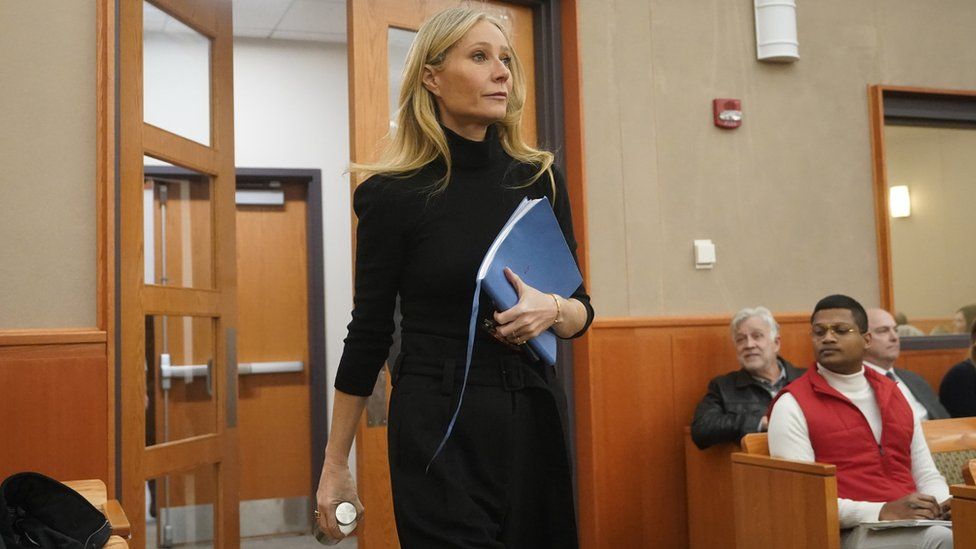 You can't blame a millionaire Hollywood actress for trying.
Early in the trial, Paltrow's legal team asked whether her private security were allowed to "bring in treats for the bailiffs for how helpful they've been".
Buying gifts for staff is the sort of kind gesture famous actors often make when they've finished shooting a film. It's perhaps less appropriate during a court case, however, where it could be seen as an attempt to influence the trial's outcome.
It's thought Paltrow's team wanted to express their gratitude for the bailiffs' help in dealing with the large number of photographers outside court, trying to take shots of the actress arriving or leaving.
But the unusual request blindsided Sanderson's team, prompting a courtroom objection. That led the judge to say "thank you, but no thank you" to the offer of treats.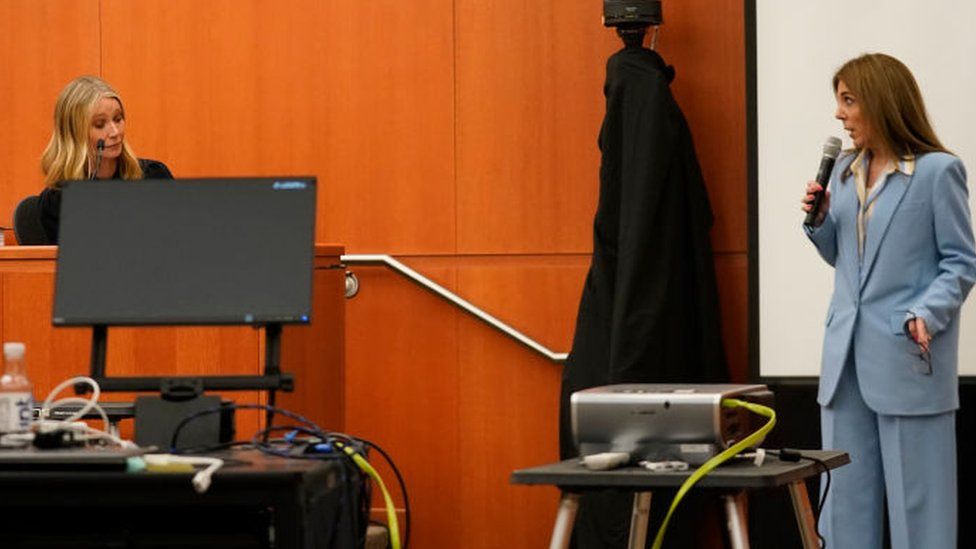 Listen, we totally understand that most people would want to be friends with Gwyneth Paltrow – it would be worth it for the free candles alone.
When Paltrow confirmed her height as just under 5ft 10in, VanOrman replied: "I am so jealous… I have to wear four-inch heels just to make it to 5'5″."
Other instant classics included telling Paltrow she "probably had a better ski outfit" than everyone else on the slope, and after hearing that the actress was a "good tipper", replying: "Fantastic, I wouldn't expect anything less."
Perhaps it was a tactic to make Paltrow comfortable so she could trip her up. VanOrman's most viral moment came when she told Paltrow: "You're small but mighty. Actually you're not that small."
We'll see you at the stage door, Kristin.
3. 'Did you or did you not compare my client to King Kong coming out of the jungle?'
It's a reasonable question which any sensible person would want the answer to.
He claimed he heard the actress scream moments before allegedly crashing into him. And he also re-enacted the scream.
During the trial Sanderson clarified he had in fact meant to say Paltrow had screamed like a woman being chased by King Kong.
4. 'Are you friends with Taylor Swift?'
Much has been made of the $1 damages Paltrow sought – a symbolically small amount of money which implies that she is not suing for financial gain.
"Are you good friends with Taylor Swift?" VanOrman asked, implying that the singer had given Paltrow the idea.
"No," Paltrow replied, adding: "I would not say we're good friends. We're friendly. I've taken my kids to one of her concerts before*, but we don't talk very often."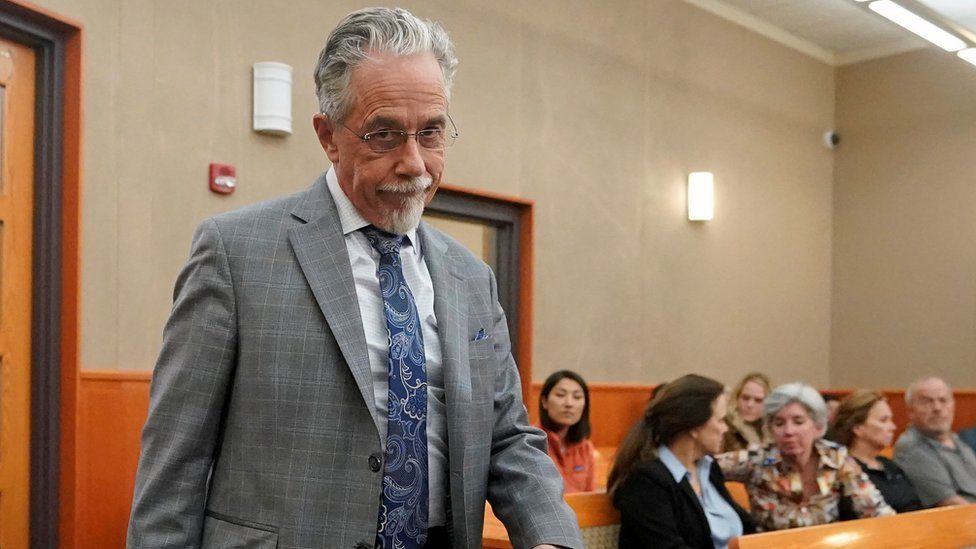 Sanderson's case suffered a setback when it was revealed he sent an email to his children on the day of the collision with a subject line: "I'm famous."
The implication being that colliding with such an A-lister was about to make him a star.
"My head was scrambled," he told the court. "All I was trying to do was desperately communicate with my kids before they heard from someone else. I didn't pick my words well – and it was not at all how I felt."
He added: "I was really trying to add some levity to a serious situation and it backfired. Little did I know this is where we'd be."
Sanderson testified that he's "not into celebrity worship," so he "didn't care at that point".
"Did you think it was cool to collide with a celebrity?" VanOrman asked. Yes, we would reply instantly, if we'd been on the stand.
"Absolutely not," Sanderson said instead. "That is not who I am."
6. 'Well, I lost half-a-day of skiing'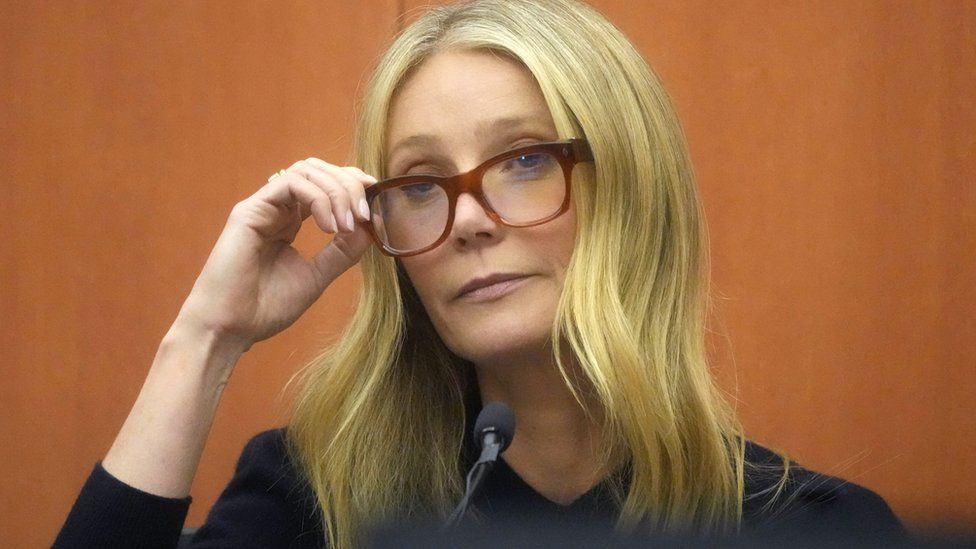 While Paltrow was on the stand, it was put to her that the collision had "deterred [her] from enjoying the rest of what was a very expensive vacation".
"Well, I lost half-a-day of skiing," Paltrow replied – a line which wouldn't be out of place in the next season of privilege satire The White Lotus.
Paltrow had paid a reported $9,000 (£7,285) for ski instructors for each of her kids that day – so the costs of losing a half-day do mount up to be fair.
Regardless, Paltrow's iconic delivery secured her a place in Twitter folklore for many years to come.