Police apprehended Frank R. James, who will face federal terror charges for allegedly opening fire on a Brooklyn subway, wounding 10 and injuring 13 others, officials said.
James was taken into custody on Wednesday after police received a Crime Stoppers tip directing them to the East Village neighborhood of New York City, authorities said.
Police sources told NBC News they believe James called the tip line himself, saying he was at a McDonald's on the Lower East Side of Manhattan. "This is Frank. You guys are looking for me … my phone is about to die," the sources say the caller said.
New York City Mayor Eric Adams, who is in isolation following a positive Covid-19 test, told reporters in a video feed, "My fellow New Yorkers, we got him."
The tip that led to James' arrest originally took police to the McDonald's on First Avenue and East Sixth Street before officers found him a short time later, two blocks away at St. Mark's Place, ending an intense 30-hour manhunt, officials said.
As he was led out of the 9th Precinct station house on his way to jail, a handcuffed James declined to answer any questions shouted at him by reporters and photographers.
"We used every resource at our disposal to gather and process significant evidence that directly links Mr. James to the shooting," NYPD Commissioner Keechant Sewell told reporters.
"We were able to shrink his world quickly. There was nowhere left for him to run."
Police declined at the press conference to say who phoned in the key tip leading to James' arrest. Sewell was asked directly if James called in on himself and she declined to answer.
"We're reviewing who made that call," Sewell said.
James will be charged with a federal crime, for allegedly carrying out a terrorist act on mass transit, U.S. Attorney Breon Peace said.
The suspect could face life in prison, according to the prosecutor.
"Yesterday was a dark day for all of us," Peace said. "But the bright spots of the incredible heroism of our fellow New Yorkers, helping each other in a time of crisis, the quick response by our first responders, and the hard work by all of our law enforcement partners that has been ongoing, is truly a bright spot here."
Earlier on Wednesday, authorities called James a suspect rather than a person of interest.
Surveillance video obtained by NBC New York apparently showed James swiping a subway card, trying to enter a station before Tuesday's attack, giving authorities a clearer look at the suspect.
It was still wasn't clear Wednesday why that particular subway train or station was targeted, if they were at all.
Police even left open the possibility that Tuesday's attack might have been a spur-of-the-moment act.
"He popped the smoke grenade and we have one witness who says 'What did you do?'" NYPD Chief of Detectives James Essig said. "He goes 'oops' and then he pops the (other smoke canister), brandishes the firearm and fires 33 times."
Piecing together a potential motive had been a secondary concern for investigators looking for James.
"First and foremost, we wanted to get him off the street," Essig said.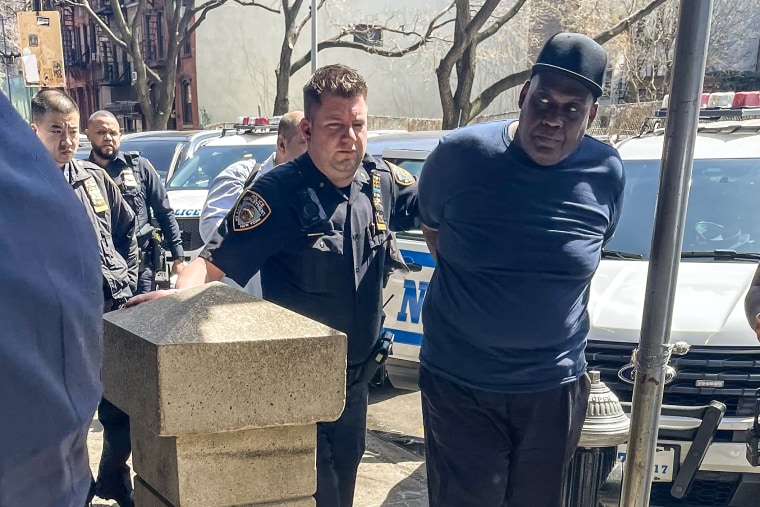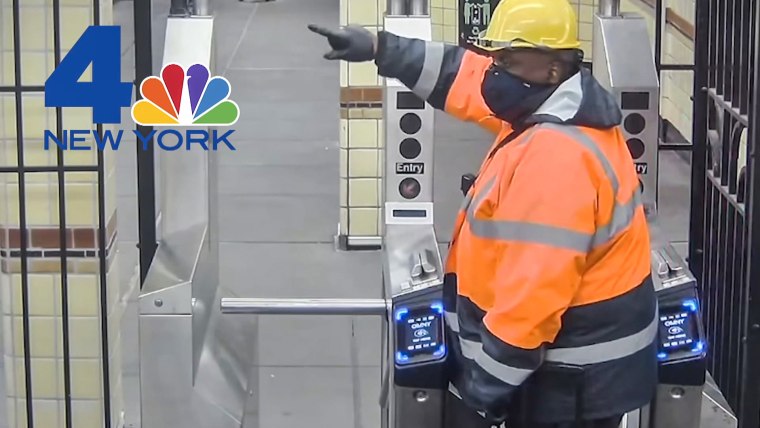 James has a lengthy arrest record in New York City and across the Hudson River in New Jersey, according to Essig.
Between 1992 and 1998, he was arrested nine times in the five boroughs for offenses that include possession of burglary tools, a criminal sex act and theft of service. His New Jersey arrests were in 1991, 1992 and 2007 for trespassing, larceny and disorderly conduct.
The shift in language earlier on Wednesday, from person of interest to suspect, came after another key development in the ongoing probe, with investigators linking the gun allegedly used in Tuesday morning's rush-hour attack to James and an Ohio pawn shop, law enforcement sources said.
Cellphones buzzed shortly after James was named a suspect, urging New Yorkers to call authorities if they see him.
A 9mm Glock handgun left at the scene has been traced by Bureau of Alcohol, Tobacco, Firearms and Explosives investigators to James and a pawn shop in Columbus, law enforcement said. The suspect purchased it there in 2011, sources said.
A $50,000 reward had been offered for tips leading to the arrest and conviction of James, who police said had addresses in Wisconsin and Philadelphia.
He rented a U-Haul van, the keys of which were found at the scene of the shooting in Brooklyn's Sunset Park neighborhood, according to authorities.
That van was discovered in the Gravesend neighborhood of Brooklyn, about 5 miles from the Sunset Park attack.
Investigators have obtained surveillance video, taken near that van, appearing to show the suspect walking into a subway station, law enforcement sources said. Footage captured that grainy figure carrying a bag, similar to the one recovered at the shooting scene, into the the Kings Highway station, which serves the N line.
Tuesday's shooting was carried out as a Manhattan-bound N train pulled into the 36th Street station.
The bag left behind at the station included a variety of fireworks and other pyrotechnic equipment that an Ohio-based fireworks seller believes came from him, he told NBC News.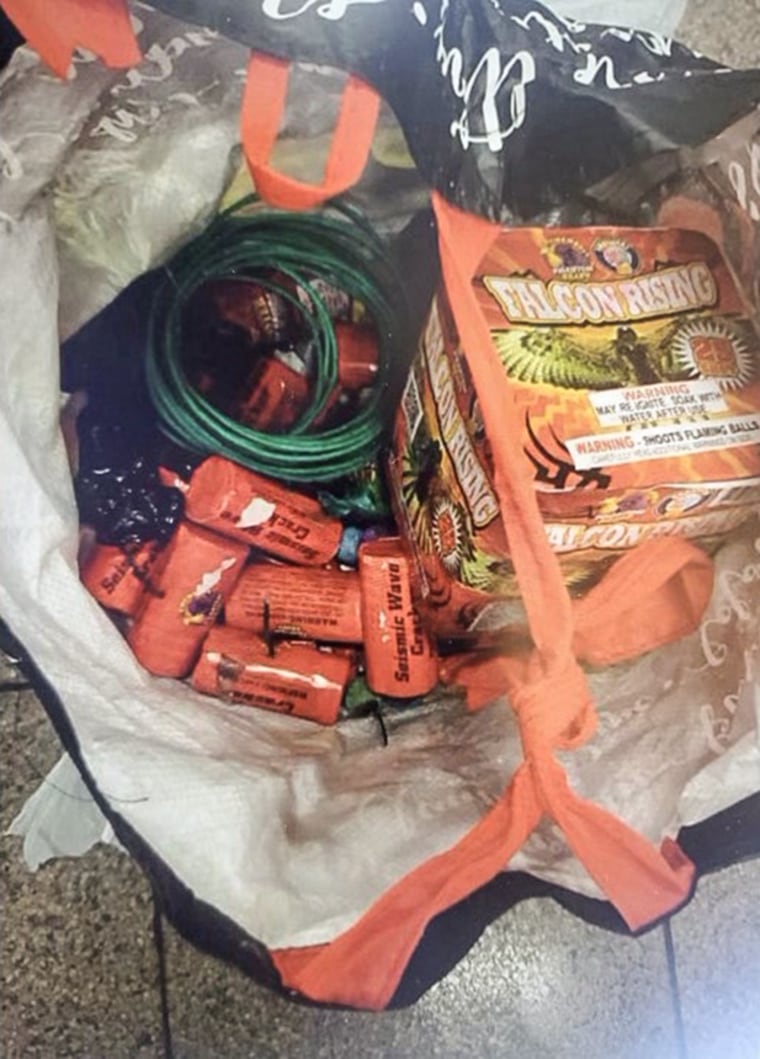 Based on widely circulated pictures of this bag, Phantom Fireworks CEO Bruce Zoldan said that images show four distinct, proprietary items that link to his business — and they were purchased in June last year in Wisconsin by a 62-year-old man named Frank James.
"We found people (in sales records) that bought two of those items, individuals that bought three of those items, individuals that bought one of those items," Zoldan said. "Only one person bought four of those items, exact four items."
Crime on New York City subways and other quality-of-life matters were key issues that Adams, a former police officer, stressed in his successful mayoral campaign last year.
He ordered additional police staffing on subways Tuesday and urged his fellow New Yorkers to keep using public transit, in the wake of this attack.
Adams retweeted pictures of City Hall staffers who rode rails on Wednesday, adding: "Proud of this team."
Before the subway attack, James appeared to post several rambling videos on YouTube in which he voiced bigoted and controversial views as well as scathing criticism of Adams and his public safety policies and homeless outreach programs on trains.
In a video posted Monday, he said he had experienced the desire to kill people but didn't want to go to jail.