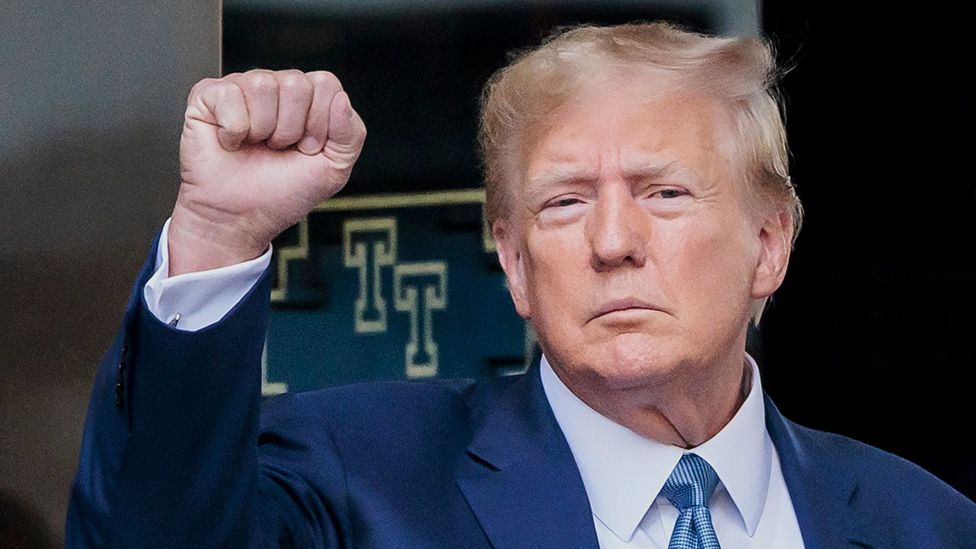 Donald Trump has been told he is a target of a criminal investigation over the potential mishandling of classified files after he left the White House.
A move by federal prosecutors to notify the ex-president of a criminal probe suggests he could soon faces charges.
If that happened, it would be the second indictment of Mr Trump, who is campaigning once again to be president.
Prosecutors have been looking into the transfer of files to Mr Trump's Mar-a-Lago Florida estate since last year.
The beachside property was searched last August and 11,000 documents were seized, including around 100 marked as classified. Some of these were labelled top secret.
On Wednesday, three sources familiar with the matter told the BBC's US partner CBS News that Mr Trump had been informed he was being investigated.
Mr Trump has repeatedly denied wrongdoing and has described the investigation as politically motivated.
When asked by the New York Times if he had been told he is a target of a federal investigation on Wednesday, he said "you have to understand" that he was not in direct touch with prosecutors.
CNN, ABC News, and Politico all reported on Wednesday night that Mr Trump had been notified by letter that he was the subject of a criminal investigation.
All the outlets said the move signalled charges could happen soon, but that it was possible a person would not go on to be charged.
The New York Times cited two people familiar with the matter as saying the notification came from the office of Jack Smith, a former war crimes attorney turned special prosecutor who is considering evidence.
It comes after prosecutors obtained an audio recording of Mr Trump in which he acknowledges keeping a classified document after leaving the White House.
The details of documents that may have been in Mr Trump's possession remain unclear. Classified material usually contains information that officials feel could damage national security if made public.
It is against US law for federal officials, up to and including a president, to remove or retain classified documents at an unauthorised location.
Grand juries, set up by a prosecutor to determine whether there is enough evidence to pursue a prosecution, are believed to have met in both Miami and Washington to hear evidence.
On Wednesday, the jury in Miami heard evidence from Taylor Budowich, a former aide and spokesman to Mr Trump.
It raises the possibility that any criminal charges could be filed in Florida for procedural reasons, CBS reported.
Earlier this week, members of Mr Trump's legal team met with investigators at the Department of Justice in Washington.
Mr Trump, who is leading in opinion polls to be the Republican Party's 2024 candidate for president, has consistently denied wrongdoing and has criticised the justice department's investigation as "politically motivated" and a "witch-hunt".
Any indictment over his handling of classified documents would come after Mr Trump became the first former president to be charged with a crime, after he pleaded not guilty to 34 counts of falsifying business records over a hush-money payment to a porn star.
He faces a trial in that case in New York next year.