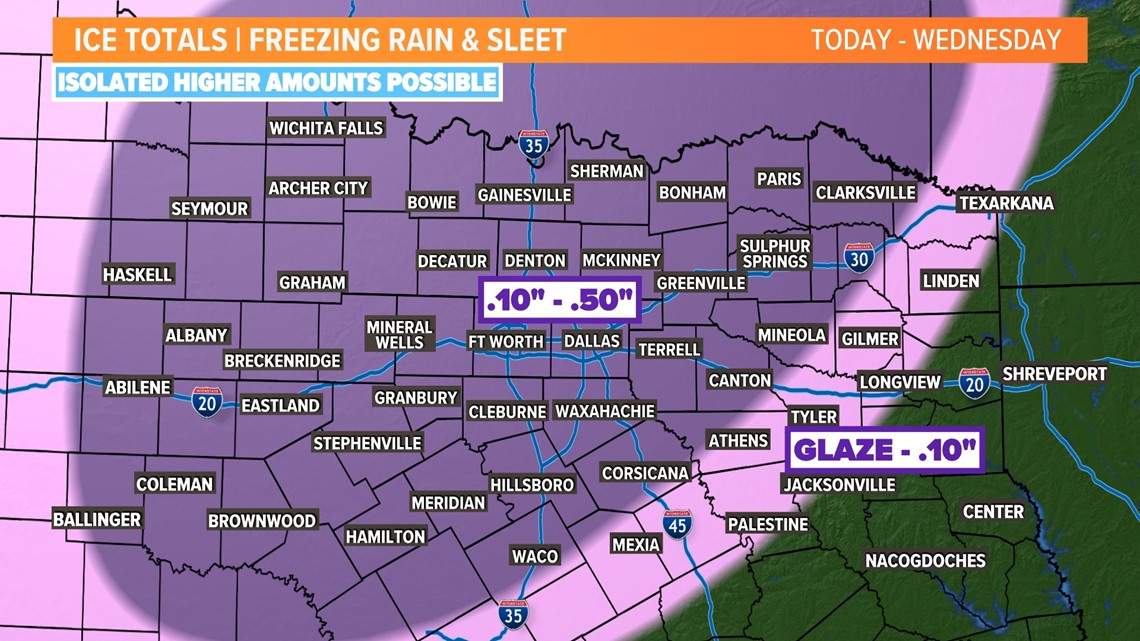 We're tracking the latest updates, from the forecast to power outages to road conditions, throughout the week.
DALLAS — North Texas was under a winter storm warning starting Monday, as ice and freezing rain were expected to cause hazardous driving conditions across the area.
We're tracking the latest updates, from the forecast to power outages to road conditions, throughout the week.
Latest DFW Forecast
The Winter Storm Watch has been upgraded to a Winter Storm Warning. It runs until 6 a.m. Wednesday morning.
Rounds of freezing rain and possibly some sleet as well with accumulations of ice ranging from .10in to .50in across the area.
North Texas school closings and delays
Several North Texas school districts, including Aledo, Weatherford and White Settlement, began canceling classes Monday, due to the winter storm.
Azle, Granbury, Castleberry and Brock were also closing Monday.
Other districts, including Fort Worth and Richardson, were canceling after-school activities. TCU in Fort Worth was closing at noon.
As the day went on, several school districts also began cancelling classes for Tuesday.
DFW Road Conditions
Road conditions were beginning to deteriorate in western areas of North Texas, prompting school closures in Parker County and in White Settlement, west of Fort Worth.
Lake Worth police around 6:45 a.m. were reporting icy roads throughout the city, including along Texas 199, Loop 820 and Farm Road 1220.
The Fort Worth Fire Department by 7 a.m. was responding to dozens of accident calls across the city, particularly on the west and northwest side of the city. In one crash, an 18-wheeler slid off U.S. 287 at Blue Mound Road on the northwest side of the city. The driver was taken to a hospital in unknown condition.
Denton roads were also starting to worsen Monday morning. Police there said they were responding to more than 20 crashes, and crews were working to sand bridges and overpasses.
Shortly before noon, all DFW TEXpress lanes were shut down by TxDOT due to the slick conditions.
Power Outages
Power outages weren't widespread as of 1 p.m. Monday, according to Oncor's outage map, which was reporting 793 impacted customers.
DFW, Love Field flights
Dallas-Fort Worth International Airport and Dallas Love Field were seeing moderate impacts Monday, though it wasn't clear if weather was yet to blame.
DFW was reporting 126 cancellations by 1 p.m., and Love Field had 106 cancellations, according to Flight Aware. Nationwide, Dallas-based Southwest had 332 cancellations and Fort Worth-based American Airlines had 176 cancellations.