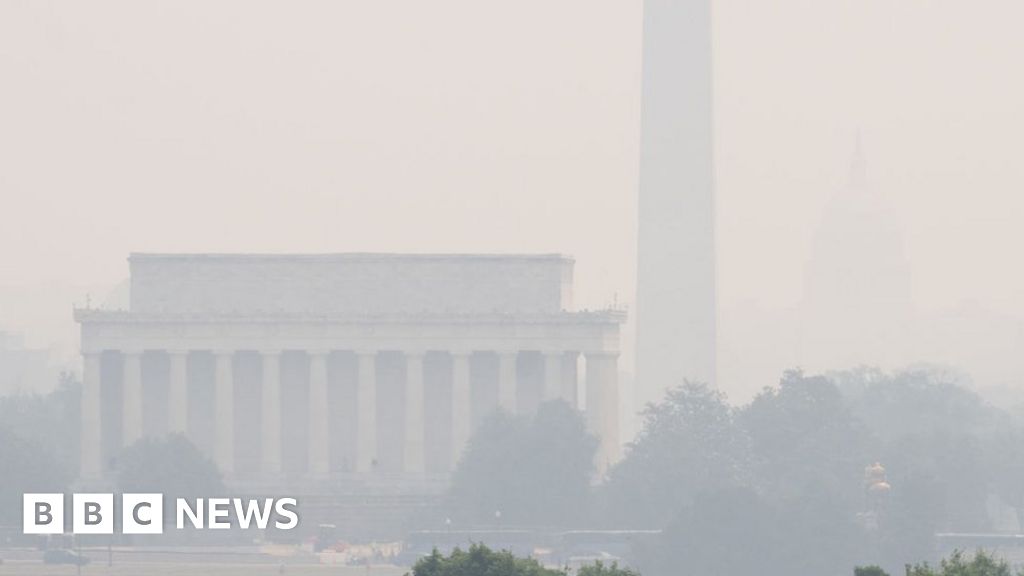 Canada's most populous city, Toronto, has won some respite from wildfire smoke, along with major US east coast cities as the haze heads south.
Air quality in New York and Washington DC also improved from hazardous levels for the first time in two days.
But unhealthy air quality is forecast to hit several southern metropolitan cities, including St Louis, Missouri and Louisville, Kentucky.
Canada wildfire smoke has left millions under health alerts this week.
The wildfires brought some of the worst levels of air pollution in decades, cancelling outdoor activities and flights in both the US and Canada.
As of Friday, more than 400 wildfires continued to rage in Canada, including over 200 that are considered out of control, according to the Canadian Interagency Forest Fire Centre.
Officials have urged residents to avoid going outside as much as possible and to wear masks when venturing outdoors, especially for vulnerable populations.
Experts say exposure to wildfire smoke can cause a host of health issues, such as an elevated pulse, chest pain and inflammation in the eyes, nose and throat.
Canadian forecasters said on Friday that air quality would continue to improve over the weekend in southern Ontario, although it remains poor in northern Ontario and western Quebec.
Weather over the next few days might bring showers to the eastern part of the country, but could also come with lightning.
"As long as the fires are burning, there is a chance the smoke could come back," Environment and Climate Change Canada meteorologist Gerald Cheng told a news briefing.
The US National Weather Service on Friday said smoke from the wildfires would continue to be "transported south by winds into the US resulting in moderate to unhealthy air quality across parts of the Northeast, Mid-Atlantic, Ohio Valley, and Midwest".
"Some improvement is expected this weekend," the service added.
The winds will bring relief for several cities including Washington DC, Philadelphia and New York, which had significantly worse air quality this week than cities abroad such as Lahore, Pakistan; Dhaka, Bangladesh; and Hanoi, Vietnam.
Mr Biden said this week that he was in contact with Canadian Prime Minister Justin Trudeau and that the US had deployed more than 600 firefighters to help battle the blazes in Canada since May.
Canadian officials say the country is shaping up for its worst wildfire season on record.
Climate change increases the risk of the hot, dry weather that is likely to fuel wildfires.