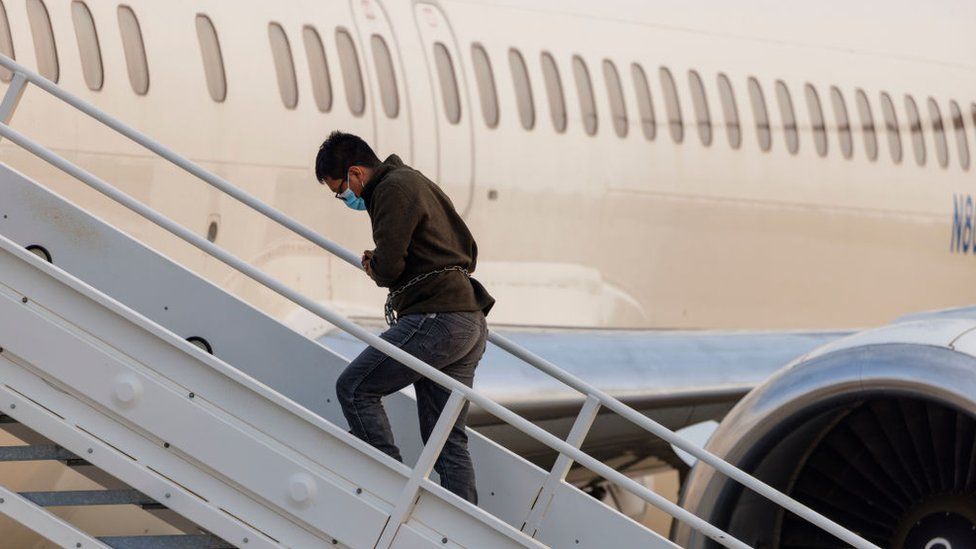 California officials are investigating how a group of migrants were flown by charter plane to its capital city from New Mexico.
Sixteen migrants from Colombia and Venezuela were dropped off outside a Sacramento church on Friday.
Documents in their possession suggested they were transported by a contractor for a Florida government programme.
But it is so far unclear if Florida's government was responsible for orchestrating the trip.
Florida Governor Ron DeSantis has not commented on the investigation.
The migrants may have been misled with "false promises" and even kidnapped, California state leaders said.
"Exploiting vulnerable human beings for cheap political points is small, weak & shameful," California Attorney General Rob Bonta wrote on Twitter.
Mr Bonta's office said the group had been transported from Texas to New Mexico, flown in a private chartered jet to Sacramento and driven to the Roman Catholic Diocese, a local church.
Paperwork they shared with authorities indicated they were participating in the migrant transportation system administered by Florida's Division of Emergency Management and run by Florida-based contractor Vertol Systems Company Inc.
Florida and at least two other Republican-controlled states have sent busloads of migrants, often with no advance warning, to Democratic-run cities since last year in protest against President Joe Biden's border policies amid an influx of migrants at the southern US border.
Vertol, which has ties to Florida's Mr DeSantis, was paid at least $1.6m (£1.3m) last year for at least two migrant flights, including to Martha's Vineyard, Massachusetts.
Mr DeSantis is contesting for the Republican presidential nomination in 2024.
PICO California and Sacramento ACT, two faith-based volunteer groups that are helping the South Americans, told US media they were approached outside a migrant centre in the Texas border city of El Paso by people who offered them jobs and other support.
They were dropped off at the church's doorstep not knowing where they were and with only a backpack's worth of personal belongings each, the groups said.
California Governor Gavin Newsom said in a statement on Saturday that he and Mr Bonta had personally met the group.
He vowed to ensure they were "treated with respect and dignity, and get to their intended destination as they pursue their immigration cases".
"We are investigating whether those orchestrating the group's trip misled anyone or violated laws", he added.