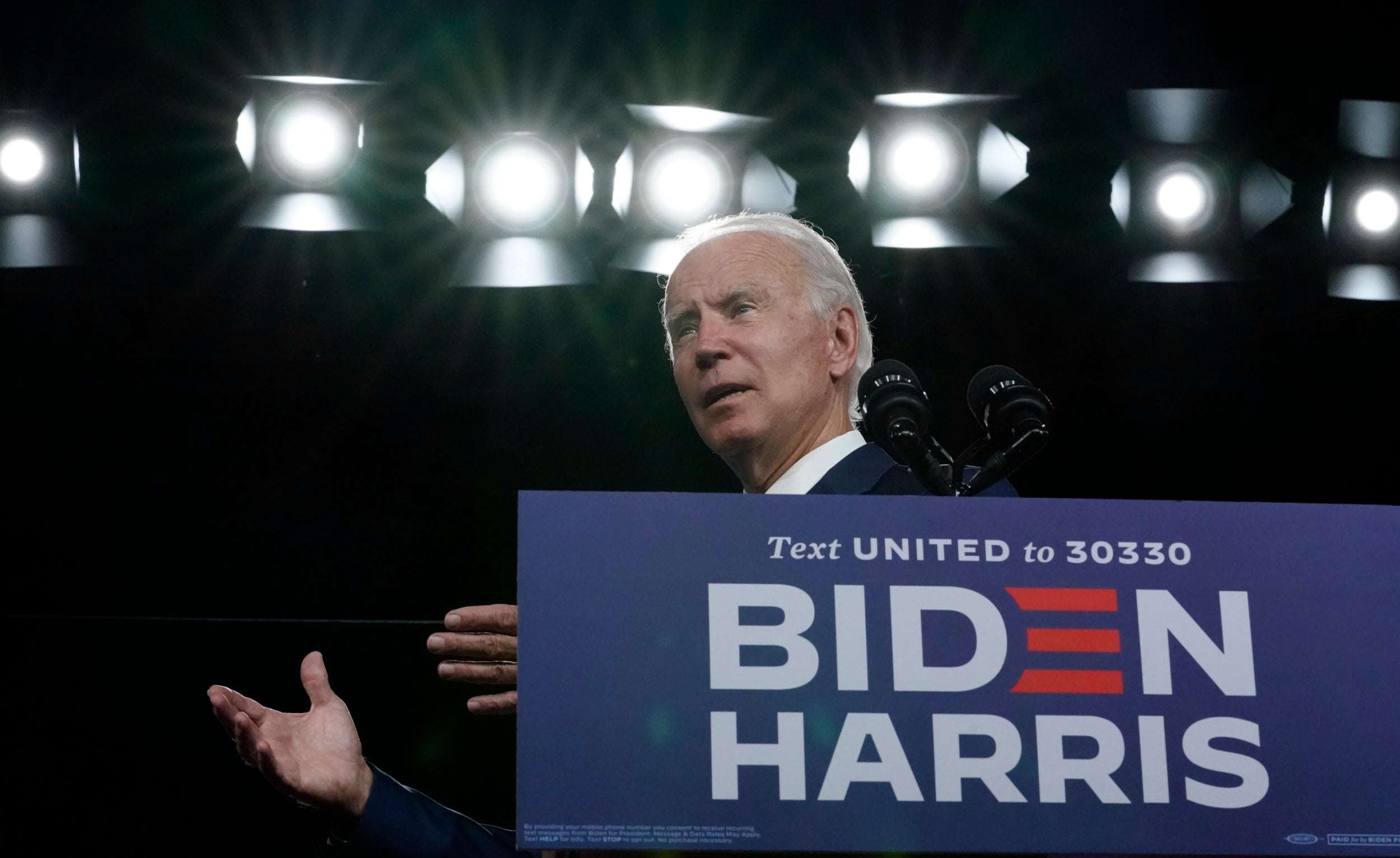 Democratic candidate and former vice president Joe Biden said he would like an onscreen fact check ticker to counter Donald Trump's "lies" during the upcoming debates.
Speaking at a campaign event to lay out his plan for reopening schools in the wake of the coronavirus pandemic, Mr Biden said he is preparing for the debates by going over everything the president has said and the "multiple lies" he's told.
He then went on to say that it would be great to have a fact check ticker at the bottom of the screen.
"It would make a great debate if everything we said was instantly fact-checked by an agreed to group of people," he said, before conceding that it probably wouldn't be possible.
He added: "I'm looking forward to debating the president, and I'm going to lay out as clearly as I can what I think we have to do to bring this country back and build it back better, and I'm looking forward to the debates."
Cable news shows have in the past live fact-checked presidential speeches, but a debate format might prove more challenging.
The debate schedule was finalised some time ago, but the moderators for the three presidential debates and the one vice presidential debate were announced on Wednesday.
The first debate on 29 September at Case Western Reserve University and Cleveland Clinic in Ohio, will be moderated by Chris Wallace, anchor of Fox News Sunday.
On 7 October Kamala Harris and vice president Mike Pence will debate each other at The University of Utah in Salt Lake City, with Susan Page, Washington bureau chief of USA Today acting as moderator.
The second presidential debate on 15 October will be held at the Adrienne Arsht Centre for the Performing Arts in Miami, Florida, and will be formatted as a town hall-style event, moderated by Steve Scully, senior executive producer and political editor of C-SPAN.
Finally, the third presidential debate on 22 October at Belmost University in Nashville, Tennessee, will be moderated by Kristen Welker, co-anchor of Weekend Today and White House correspondent for NBC News.
The non-partisan Commission on Presidential Debates selects the dates, locations, formats and moderators for each of the debates.