President Joe Biden and Canadian Prime Minister Justin Trudeau on Friday reaffirmed the strong relationship between the U.S. and Canada and announced an agreement to turn away asylum seekers who cross their borders without authorizations.
In a joint press conference, the two world leaders also discussed their efforts on a range of issues, including the opioid crisis, climate change and instability in Haiti.
"Canada and the United States always will have each other's backs," Biden said standing beside Trudeau in Ottawa during his first visit to Canada as president. "We've unleashed an economic potential of our people and our partnership — the partnership that generates more than $2.5 billion in trade every single day."
"We're transforming our hemisphere into a clean energy powerhouse, including extending the Inflation Reduction Act tax credits to electric vehicles assembled in Canada," he said, adding that the two countries are also strengthening supply chains for critical minerals and semiconductors.
Biden added, "Today, we're making $50 million available through the Defense Production Act to incentivize more U.S. and Canadian companies to invest in packaging of these semiconductors and printed circuit boards."
Trudeau said the two countries will launch a joint energy transformation task force that will boost efforts on clean energy and clean tech, and Canada will make a new investment of $420 million to continue protecting the Great Lakes.
In a speech to the Canadian Parliament earlier in the day, Biden said, "No two nations on earth are bound by such close ties friendship, family, commerce and culture. Our labor unions cross borders, so do our sports leagues, baseball, basketball, hockey."
He listed many of the areas of cooperation between the U.S. and Canada, including bolstering Ukraine's defenses against military attacks from Russia.
After his speech, Biden and Trudeau announced the new agreement on migrants and asylum-seekers. Trudeau has said he wants help from the Biden administration to stem the flow of migrants into his country from the U.S. who are claiming asylum. Police and border officers will enforce the agreement at midnight, he said during the joint press conference.
The new policy would apply to people caught within 14 days of crossing the U.S.-Canada border without citizenship in either country. Canada also committed to taking in an additional 15,000 migrants next year from the Western Hemisphere on a humanitarian basis.
Illegal crossings into the U.S. from Canada have climbed to historically high levels, although they are still a fraction of the crossings into the U.S. from Mexico.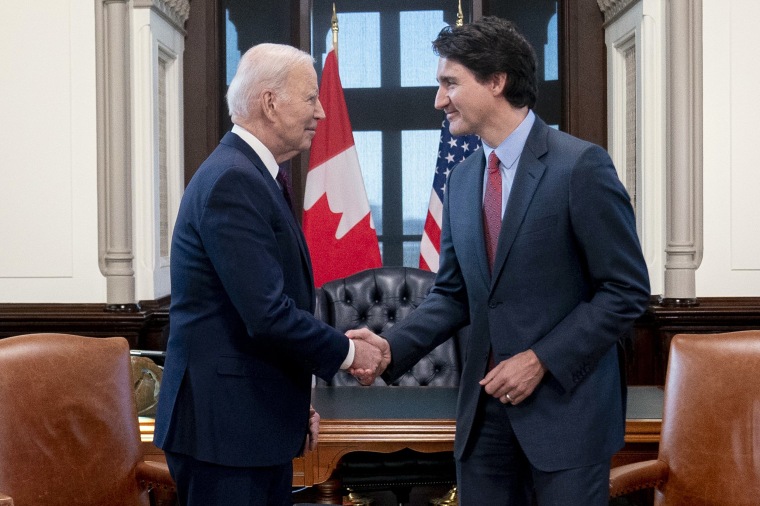 Biden and Trudeau also described how they would approach issues regarding China and NORAD.
"We disagree in degree on things occasionally," Biden said in brief remarks ahead of one of his meetings with Trudeau. "But there's no fundamental difference in the democratic values."
Trudeau touted his country's relationship with the U.S., saying Canada has "no greater friend and ally than the United States."
At the other bilateral meeting, Biden sat at a long table with key members of his administration — including Secretary of State Antony Blinken, national security adviser Jake Sullivan, and Energy Secretary Jennifer Granholm — across from their Canadian counterparts.
In the evening, Biden and the first lady will attend a gala dinner hosted by Trudeau and his wife, Sophie Grégoire Trudeau.
Peter Nicholas and Julia Ainsley contributed.