Police are looking for a person of interest in a shooting Friday afternoon that wounded four people near two campuses in Washington, D.C.
The shooting forced a prep school to be locked down and residents to shelter in place while officers searched for the shooter. No arrests had been reported Friday night.
The Metropolitan Police Department was looking to speak with Raymond Spencer, 23, of Fairfax, Virginia, whose name they became aware of through social media, Assistant Chief Stuart Emerman said.
Police earlier Friday counted at least three victims in the shooting, but later said a fourth reported to officers at the scene.
Three of the victims — a 12-year-old girl who was shot in the arm, a woman in her mid-30s and a 54-year-old man — were stabilized, Emerman said.
A woman in her mid-60s with a graze wound to her upper back was treated at the scene and released, he said.
Although some people who ran from the scene were grabbed and being questioned, no one was in custody, Emerman said at an early afternoon news conference.
If it's determined those people were not involved, they'll be released, he said.
Any motive in the shooting remained unknown, Emerman said.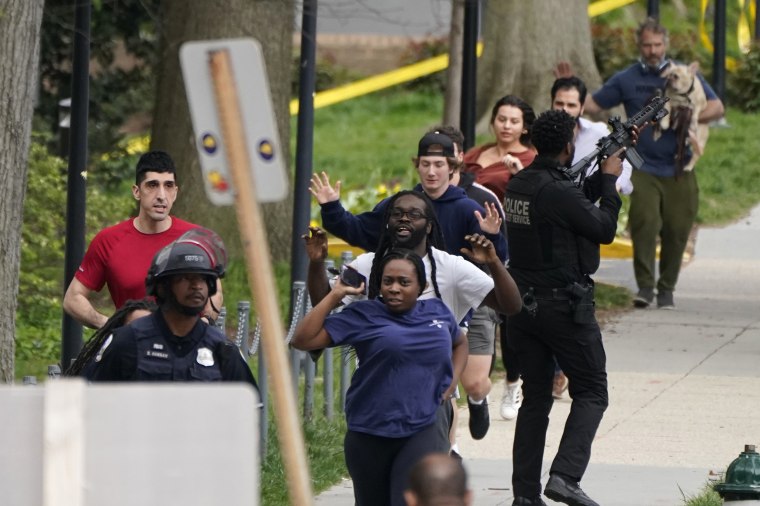 Authorities told people in the area of Van Ness Street, NW, and Connecticut Avenue, NW, not far from Embassy Row and the Van Ness neighborhood, to shelter in place.
However, after officers swarmed the neighborhood, occupied by both Edmund Burke School, home to students in grades 6-12, and Howard University School of Law, dozens of people were escorted away.
The Edmund Burke prep school was locked down, and parents hoping to retrieve children were told to wait, Emerman said.
Mayor Muriel Bowser said late Friday that they were beginning to reunify those students with their families.
Earlier, NBC Washington photojournalist Tarik Warner was in the area to pick his daughter up from the Edmund Burke school, which was about to wrap up for the day.
"I can confirm, I saw with my own eyes — I saw a child being carried away," he said.
Emerman said the first reports of gunfire in the neighborhood were received at 3:20 p.m.
Metro police said they were conducting sweeps of the area in a search for suspects. The FBI and the federal Bureau of Alcohol, Tobacco, Firearms and Explosives both said they were sending personnel to the scene.
Police did not say the campuses were directly involved in the gunfire.
Janhvi Bhojwani , Cristian Santana and Michelle Acevedo contributed.