Federal Judge Amy Coney Barrett is one of two prominent women thought to be front-running contenders for Ruth Bader Ginsburg's vacant Supreme Court seat. With Ginsburg's death reigniting concerns about Roe v. Wade and abortion access, the U.S. 7th Circuit Court of Appeals judge's record on both has become a topic of particular interest, alongside her position regarding judicial precedent.
While Barrett has not explicitly ruled on abortion cases, she cast votes in Indiana cases related to abortion rights as a member of the full appeals court. After several judges determined an Indiana law, which required fetal remains to be buried or cremated following an abortion, was unconstitutional, Barrett voted to rehear the case. She also dissented when appeals court judges attempted to block an Indiana law mandating parental consent in order for a minor to have an abortion.
"Preventing a state statute from taking effect is a judicial act of extraordinary gravity in our federal structure," the dissent read.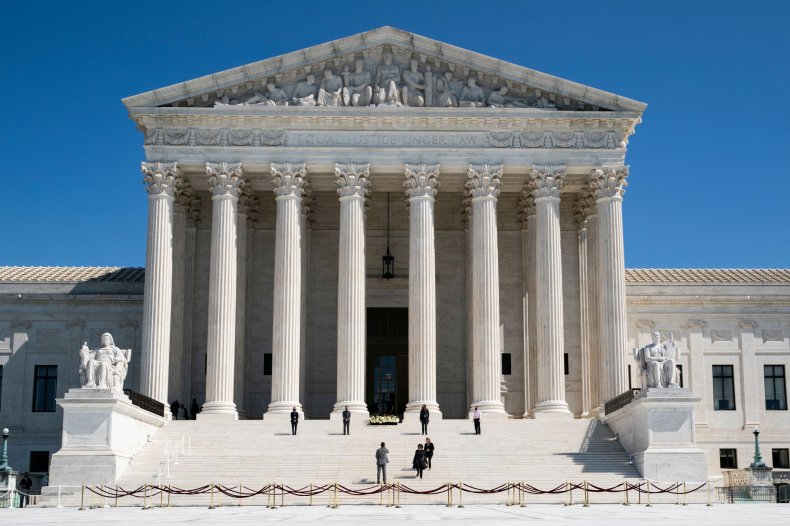 Newsweek subscription offers >
Questions about the future of Roe v. Wade, a landmark 1973 Supreme Court decision that established women's constitutional right to choose to have an abortion, are circulating in the aftermath of Ginsburg's death. President Donald Trump pledged to appoint Supreme Court justices who would overturn the decision during his 2016 presidential campaign, and many fear that filling Ginsburg's seat with another conservative justice could turn his claim into a real possibility.
After almost three decades as an associate justice, Ginsburg passed away on Friday from complications of metastatic pancreatic cancer. She was a distinguished voice on the Supreme Court bench and strong advocate for women's reproductive rights.
Barrett examined the weight of Roe's judicial precedence in a 2013 article published by the Texas Law Review. It discussed the implications of stare decisis, the judicial principal through which courts formulate decisions based on precedents set by past cases. "Stare decisis is a self-imposed constraint upon the Court's ability to overrule a precedent," Barrett wrote.
The judge cited other opinions that argue Roe does not constitute a super precedent—a term used to describe a decision whose implications are so fundamental to the law that overturning them is especially difficult—and referenced public opposition to the case in her own discourse.
"If anything, the public response to controversial cases like Roe reflects public rejection of the proposition that stare decisis can declare a permanent victor in a divisive constitutional struggle rather than desire that precedent remain forever unchanging," Barrett suggested. Roe is often cited as an example in articles related to judicial precedent, and whether it should be considered a super precedent has been subject to discussion for years.
Newsweek reached out to Judge Barrett's chambers for comments but did not receive a reply in time for publication.